Florence Nightingale
was a celebrated English social reformer and statistician, and the founder of modern

nursing
. She came to prominence while serving as a manager of nurses trained by her during the
Crimean War, where she organized the tending to wounded soldiers.
She gave nursing a highly favorable reputation and became an icon of Victorian culture, especially in the persona of "The Lady with the Lamp" making rounds of wounded soldiers at night.
12 May 1820
Florence, Grand Duchy of Tuscany.
May TWELFTH the Day of the MISCHIEVOUS MAVERICK

: Those born on May 12 have a naughty allure. Their mischievousness may not be extreme enough to get them into trouble with the authorities, but they are known for their teasing and the lighthearted pranks which they play with a twinkle in their eye. Some May 12 people are very serious in their approach to life, but still seem to have a knack for getting into hot water (or at least very warm). Basically, they just can't do things like everyone else. They have their own highly developed style and mode of operation that often clashes with that of others.
STRENGTHS:

Lucid, Talented, Ironic
WEAKNESSES:

Overly Critical, Disturbing
ADVICE

:

Leave people to their own devices. Are you comfortable in the role of missionary? Try to sweeten your acid tongue on occasion and cultivate diplomacy. Remember to love both yourself and others.
BORN ON THIS DAY

:

Florence Nightingale

,
Emilio Estevez,
Katherine Hepburn, George Carlin, Yogi Berra, Burt Bacharach, Mary Kay Ash, Howard K. Smith, ;
Source:
The Secret Language of Birthdays
Gary Goldschneider & Joost Elffers.
MEDITATION:

What is the moment? We are only here, in the moment, if we share space and time with what we observe.
Diamonds - Values - Security – Dharma
7 of Diamonds - Conflict between Spirit and Matter
Karma - Harmonization of Money and Love
SEVEN
of Diamonds
:
The MILLIONAIRE'S Card
By suit, the Seven of Diamonds is always connected with finances. As a spiritual number, they must maintain a non-attached attitude about money or there will be continuous problems in this area. Once they put money in its proper place however, they often attain or inherit great wealth. Regardless, many of their life lessons will come through this avenue. The other avenue is their close relationships. Family, lovers and friends are all very important to the Seven of Diamonds person. They have close ties, for better or worse, with their family and share in their trials. They are usually restless, making frequent changes in either occupation or location. Their love life usually entails sacrifice and disappointment until they learn to let others go and be as they are. In their spiritual studies they find inner satisfaction and validation for their own intuition. Once on the path, everything in their life is put into proper perspective and they can excel in any chosen field.
Your

Karma Cards

are the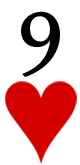 Nine of Hearts
- This card is your cosmic twin and the one with whom you share the strongest karmic link.
Ace of Clubs,
Two of Hearts,
King of Spades,
Jack of Hearts,
Eight of Clubs
- You are also connected to these cards and will often find one or more of them in your life. You all share a somewhat 'fixed' nature.
SEVEN
of Diamonds
BIRTHDAYS
: January 20 (Capricorn/Aquarius), February 18 (Aquarius/Pisces), March 16 (Pisces), April 14 (Aries),
May 12(Taurus)
, June 10 (Gemini), July 8 (Cancer), August 6 (Leo), September 4 (Virgo), October 2 (Libra);
FAMOUS
SEVEN
of Diamonds
George Carlin
was an American comedian, actor, author and social critic. Carlin was noted for his black comedy and thoughts on politics, the English language, psychology, religion, and various taboo subjects. May 12, 1937, Manhattan, NYC, NY.
FAMOUS
SEVEN
of Diamonds

:
John Travolta
,
George Carlin
, Matt Dillon, Jerry Lewis, Sarah Michelle Gellar, Stephen Baldwin, James Madison, Kevin Bacon, John D. Rockefeller, Andy Warhol, Lucille Ball, Jon Benet Ramsey, Beyonce Knowles, Sting;
Source:
Robert Camp's Love Cards.
SEVEN of Diamonds (Pentacles, Coins) in Tarot
The

SEVEN of Diamonds

is a card necessarily associated with money - for good or ill, little or much. It is a card of power and accomplishment. And for those who have not acquired a sense of value, it is known as the Card of "Wine, Women and Song" The lives of Seven of Diamonds people seem to follow cycles of 5 or 7 years; changes are often violent, always sudden. There is a great love of home for all 7 of Diamonds, but they may have to wait for it, as their early life is filled with many changes. The Seven of Diamonds is one of the "swing cards", exchanging places with the 9 of Hearts every other year. This symbolizes a challenge in balancing love with money. When their love life is running smoothly, the need for earning money becomes the priority - and when there is wealth, the stability of their home life tends to suffer!
http://www.metasymbology.com/
TAURUS III - The Week of the NATURAL May 11-18
: Taurus III's are highly sensitive individuals who need to be free to express themselves as directly and as naturally as they wish. Taurus III's do not react well when others try to correct, reform or change their basic habits. These spontaneous, fun-loving, zany individuals insist on being themselves: indeed, they seem to have no other choice. Yet society can put pressures on an individual to conform, and Taurus III's may consequently encounter serious frustrations and obstacles while growing up. Nervousness and neurotic behavior not infrequently result and, in more extreme cases, depressions and acutely
repressed
feelings.
Strengths:

FUN-LOVING - ADVENTURESOME - IMAGINATIVE
Weaknesses:

OBSESSIVE - REBELLIOUS - FRUSTRATED
Advice

:

Dig deeper and explore the depths of your personality. Try to take matters a bit more seriously if you wish others to do the same in regard to you. On the other hand, never give up your natural and instinctive approach to life. Set your personal standards a bit higher and expect more of yourself.
TAURUS III NOTABLE
Katharine Hepburn
was an American actress. Known for her fierce independence and spirited personality, Hepburn was a leading lady in Hollywood for more than 60 years. May 12, 1907, Hartford, Connecticut.
TAURUS III NOTABLES

: Dennis Hopper,
Yogi Berra
,
Salvadore Dali,

George Lucas

, Joe Louis, David Byrne, Henry Fonda, Margot Fontaine,

Katherine Hepburn

, Stevie Wonder, Phil Silvers, George Carlin, Liberace, Bertrand Russell,
Source:
The Secret Language of Birthdays
Gary Goldschneider & Joost Elffers.