Richard Meier
is an American abstract artist and architect, whose geometric designs make prominent use of the color white. October 12, 1934 (age 81), Downtown Newark, NJ.
October TWELFTH the Day of the GRAND GESTURE

: October 12 people are dominant individuals who like to be the center of attention. Their people skills are highly developed and they mix well in a variety of settings, common or elite. Since those born on this day are proud of the quality of their work, they wish to be appreciated by the best minds around them regardless of social station.
STRENGTHS:

Socially Astute, Generous, Dependable
WEAKNESSES:

Egotistical, Exhibitionist
ADVICE

:

Remember to take the feelings of others into account. Be mindful of the needs of those close to you. Unconditional love is a worthy goal to which to aspire.
BORN ON THIS DAY
:
Luciano Pavarotti,
Hugh Jackman, Dick Gregory, Perle Mesta,
Richard Alan Meier, Tony Kubeck;
Source:
The Secret Language of Birthdays
Gary Goldschneider & Joost Elffers.
MEDITATION:

What would be the most difficult single thing for you to live without?
Clubs -

Mind - Communication – Intelligence
10 of Clubs -

Mental Illumination
Karma for the 10 of Clubs -

Vacillation of Values
TEN
of Clubs: The TEACHER Card
: The Ten of Clubs have come full circle in their quest for knowledge. They have a powerful mind and a consuming desire for more knowledge as well. In this life they must learn to regain the control over their mind which has developed somewhat of a life of its own. The best path back to self-mastery is to direct the mind into right motives and higher principles. Their Three of Hearts in Mars makes for emotional restlessness, which can be a strain on relationships. The strong desire for spiritual wisdom and study of spiritual philosophies will bring contact with many uplifting groups and will increase enjoyment of life. The Ten of Clubs have good luck in work and labor relations and could do very well in the real estate business. Their Three of Diamonds Pluto Card signifies that in this life they will be doing much experimenting as they work towards finding out what really satisfies them. They often spend a lot of time deciding what is their life's work. Once they decide, they can rise to the heights. Choosing things that allow for freedom and travel gives them the best results.
Your

Karma Cards

are the:
Jack of Spades
- You owe something to this person and they reflect you in some way.
Four of Spades
- This person owes you and you are their mirror in some way.
TEN
of Clubs
BIRTHDAYS
: January 30 (Aquarius), February 28 (Pisces), March 26 (Aries), April 24 (Taurus), May 22 (Taurus/Gemini), June 20 (Gemini), July 18 (Cancer), August 16 (Leo), September 14 (Virgo),
October 12 (Libra)
,
November 10 (Scorpio), December 8 (Sagittarius);
FAMOUS
TEN of Clubs
"Dick" Gregory
is an American civil rights activist, social critic, writer, entrepreneur, and comedian. October 12, 1932 (age 83), St. Louis, MO.
FAMOUS
TEN
of Clubs

:
Franklin D. Roosevelt,
Dick Cheney, Vanessa Redgrave, Gene Hackman,
Bernadette Peters, Mario Andretti, Keira Knightley, Steven Tyler,
Dick Gregory
, Barbara Streisand, Shirley MacLaine, Naomi Campbell, Sir Laurence Olivier, Nicole Kidman, Errol Flynn, Van Diesel, Hunter S. Thompson, Steve Carell, Madonna, Kim Basinger, Hugh Jackman, Luciano Pavarotti, Richard Burton, Roy
Schneider
, Mary Queen of Scots.
Source:
Robert Camp's Love Cards
www.7thunders.com
TEN of Clubs
: The greatest success for the 10 of Clubs lies within the mental realm. This is also considered the Moon Card; known to astrologers as the emotional mind. Mental strength,
absurdness
, and will power are the trademarks of those born under this high card, as well as blind ego, and cunning. Ten of Clubs people are often suspicious of others, and demand loyalty from friends and family. They are known as task-masters within the family, and feel they are deserving of that title. They are afraid of being judged, and are insecure on a very deep level. All 10 of Clubs like to work, and for those instilled with a good sense of values early in life, success is theirs for the taking.
http://www.metasymbology.com/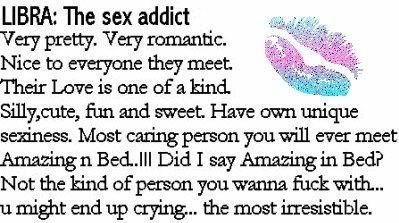 LIBRA III - The Week of THEATER October 11-18:

If "all the world's a stage," as Shakespeare wrote, then Libra III's are some of the finest players upon it. Acting out the drama of their own lives in everyday affairs is a specialty of those born in this week. Libra III's know the value of image in their professional lives and spend a lot of time working on how they present themselves to the world. Their detachment, even coolness, may sometimes irritate or infuriate those around them, but it is misleading; if they seem to lack affect, this is usually a result of a studied and rigorous training they put themselves through. Libra III's are actually very emotional people.
Strengths:

WORLDLY - HARD-DRIVING - KNOWLEDGEABLE
Weaknesses:

UNHEEDING - BLAMING - OVERCONFIDENT
Advice:
Beware of making promises you can't keep. Consider carefully the possible repercussions of your actions. Sometimes it is necessary to play at a part but don't kid yourself in the process. Be more considerate of the feelings of others; devote sufficient time and patience to emotional matters.
LIBRA III
NOTABLE
Hugh Jackman
is an Australian actor, singer, and producer. Jackman has won international recognition for his roles in major films, notably as superhero, period, and romance characters. October 12, 1968 (age 47), Sydney, Australia
LIBRA III
N
OTABLES
: Luciano Pavarotti,
Eleanor Roosevelt
,
Margaret
Thatcher
, Eugene O'Neill, Oscar Wilde, Martins Navratilova, Pierre Trudeau, Chuck Berry,
Hugh Jackman
, Lenny Bruce, Lee Harvey Oswald.
Source:
The Secret Language of Relationships
Gary Goldschneider & Joost Elffers.
Karma for the 10 of Clubs -
Vacillation of Values