"Ray" Kroc was an American businessman and philanthropist. He joined McDonald's in 1954 and built it into the most successful fast food operation in the world. October 5, 1902, Oak Park, IL.
October FIFTH the Day of the JUST CAUSE

: Justice is a major theme in the lives of those born on October 5. Generally guarding the truth, as they see it, they will do what they can to first expose and then oppose unfairness, corruption or oppression. Not satisfied with this, however, they will often persuade friends, family members or colleagues to help put the situation right. Those born on this day can be found working on a personal level or at the highest echelons of society with the same determination.
STRENGTHS:

Just, Life-Oriented, Social
WEAKNESSES:

Preoccupied, Bothered, Anxious
ADVICE

:

Don't get so carried away with yourself. Remember to tune in and ask for spiritual advice frequently. Keep your small daily tasks in mind. Don't stumble over the stone at your feet while you eye the distant mountain.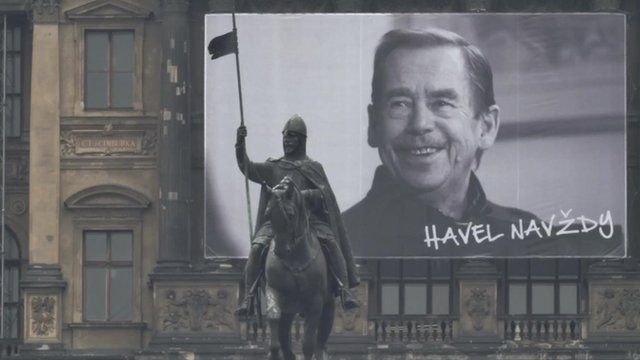 BORN ON THIS DAY
:
Waclaw Havel
,
Philip Berrigan, Chester A. Arthur, Kate Winslet,
Ray Kroc, Bob Geldof, Glynis Johns, Michael Andretti, Maya Lin;
Source:
The Secret Language of Birthdays
Gary Goldschneider & Joost Elffers.
MEDITATION:

We work for God. She's a tough boss, and the pay isn't always that good, but the rewards are there.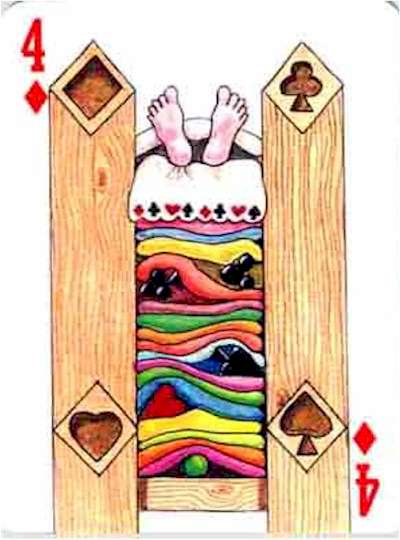 Diamonds -

Values - Security – Dharma
4 of Diamonds -

Concentration on Security
Karma for the 4 of Diamonds -

Overcoming of Self
FOUR
of Diamonds: The Card of SOLID VALUES
: The Four of Diamonds is a card of protection in finances, however that protection is only accessed through hard work. This card, above most others, must put forth the effort to reap the rewards, but the rewards are surely there. To achieve this, they often have to come to terms with their own inner restlessness (Five of Spades Karma Card) and dissatisfaction. They never anything without paying some price for it. Often the work they must do involves their marriage or their closest relationships. These people are very sociable, meet many people, and usually have many friends. They have high ideals concerning love and often these ideals can cause confusion in real life romantic situations. There are difficulties to be dealt with in their life and they must watch a tendency to get into a rut and get stuck there. However, all they need to do to have more happiness is to work. Once they get into action, everything
smooths
out, and their fears are laid to rest.
Your

Karma Cards

are the:
Five of Spades
- You owe something to this person and they reflect you in some way.
Five of Hearts
- This person owes you and you are their mirror in some way.
FOUR
of Diamonds
BIRTHDAYS
: January 23 (Aquarius), February 21 ( Pisces), March 19 (Aries), April 17 (Aries), May 15 (Taurus), June 13 (Gemini), July 11 (Cancer), August 9 (Leo), September 7 (Virgo),
October 5 (Libra)
, November 3 ( Scorpio), December 1 (Sagittarius);
FAMOUS
FOUR
of Diamonds
Kate Winslet
,
CBE, is an English actress and singer. She is the recipient of an Academy Award, an Emmy Award, three Golden Globe Awards and a Grammy Award. October 5, 1975 (age 40), Reading, UK.
FAMOUS
FOUR
of Diamonds:
Victoria Beckham,
Princess Caroline of Monaco, Ellen Page, Bruce Willis, Jennifer Garner, Madeleine Albright, Mary-Kate and Ashley Olsen, Raz-B, Leon Spinks, Whitney Houston, Elia Kazan, Nikki Hilton, Roseanne, Larry Fine, Kate Winslet, Bob Geldof, Woody Allen.
Source:
Robert Camp's Love Cards
www.7thunders.com
FOUR of Diamonds in Tarot
FOUR of Diamonds

: The importance of work is stressed for all 4's, and this is especially true of the 4 of Diamonds. There is inherent protection for this card, but only if they are making diligent and concentrated efforts in their lives. When this is lacking, poverty and failure - in varying degrees - are the sure results. A life of leisure is just not part of their life plan. This is by no means an easy card to deal with. They are known to rebel at the restrictions imposed by relationships, work and life circumstances. While they are basically materially oriented people, there is an underlying spiritual interest which should not be neglected! A good earning capacity belongs to this card but it is only through hard work that their dreams become a reality.
http://www.metasymbology.com/
LIBRA II - The Week of SOCIETY October 3 - 10:

The paradox about those born in this week is that although their social skills are highly developed, they may really be loners by nature. Their knowledge of current events, fashions and matters concerning lifestyle is impressive, and family and friends usually consult them as to the choice of materials or methods to get the job done in the most tasteful way possible. Constantly in demand, LIBRA II's often have difficulty finding time for themselves, and at some point must learn how to limit the time and energy they are prepared to give.
Strengths:

UP-TO-DATE - FAIR - INSIGHTFUL
Weaknesses:

COMPLACENT - SEVERE - SELF-DECEIVING
LIBRA II
Notable
Maya Ying Lin
is an American designer and artist who is known for her work in sculpture and land art. She first came to fame at the age of 21 as the designer of the

Vietnam Veterans Memorial

in Washington, D.C. October 5, 1959 (age 56), Athens, OH.
LIBRA II
Notables
:
John Lennon,
Rev. Jesse Jackson, Susan Sarandon, Buster Keaton, Desmond Tutu, Vaclav Havel, Harold Pintor, Helen Hayes, Yo-Yo Ma, Larry Fine, Sigorurney Weaver, Maya Lin, Giuseppe Verdi;
Source:
The Secret Language of Relationships
Gary Goldschneider & Joost Elffers.
ADVICE
:
Try to find your true heart's desire. Once you have found it, remember to show you really care. Don't always give things away - hold on to what is most valuable in
yourself
. Learn to limit your explorations of interesting but distracting subjects that can sidetrack you from your main purpose. Make some hard choices, but preserve your dreams and visions.
Karma for the 4 of Diamonds -
Overcoming of Self