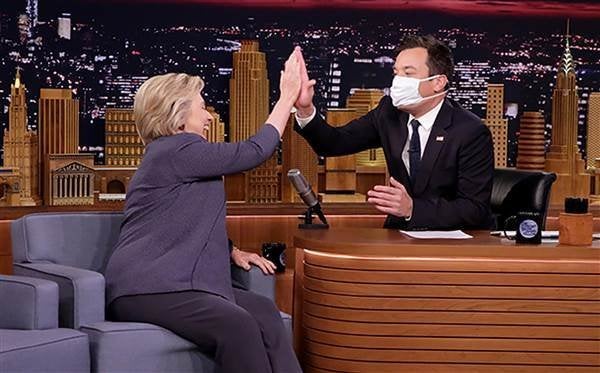 "Jimmy"
Fallon
is an American comedian, television host, actor, singer, writer, and producer. September 19, 1974 (age 41), Bay Ridge, NYC, NY.
September NINETEENTH The Day of FINE APPEARANCE

: Those born on 19 September are very much concerned with the appearance of things. Not only their own physical appearance is important to them, but also that of their home, surroundings and family. Regardless of their financial station in life, they are usually very orderly, even compulsive personalities who are able to organize everyone around them into one smooth running outfit.
Strengths:

Tasteful, Elegant, Organized
Weaknesses:

Trendy, Compulsive, Materialistic
ADVICE
:

Be true to yourself. Don't forget your roots. Beware of all forms of material attachment. Seek spiritual goals and having attained them don't forsake them. Cultivate
loyalty
and emotional depth.
BORN ON THIS DAY
: Richelieu, Jeremy Irons,
Twiggy,
Cass Elliot, Joe Morgan, Joe Snider, Leon Jaworski, David McCallum (Man from U.N.C.L.E.), Paul Williams (singer, songwriter),
Jimmy Fallon.
Source:
The Secret Language of Birthdays
Gary Goldschneider & Joost Elffers.
MEDITATION:

Dig a Little Deeper.
Clubs -

Mind - Communication – Intelligence
5 of Clubs -

Changes in Mental Attitude
Karma for the 5 of Clubs –
Skepticism
FIVE
of Clubs: The MENTALLY and EMOTIONALLY RESTLESS Card
: Five of Clubs means changes and restlessness of the mind and we find these people to have a lot of curiosity and restlessness in their lives. Their Five of Hearts Karma Card tells us that they also have many changes in their romantic life as well and for this reason they are not usually well suited for marriage. They have the Ace of Spades in Venus and that Venus and that speaks of secret love affairs and indecision about which to choose. Their Seven of Diamonds in Jupiter is a millionaire's card and many of them have lots of money, though they often spend it as fast as they get it. Speculation & gambling should be avoided. Their natural curiosity brings them much knowledge, but they often do not apply it or stick to one train of thought. This tends to make them skeptics, not even getting satisfaction from their own self- created belief structures. An interest in spiritual studies brings more satisfaction in their later years and provides answers that bring more peace to their lives. A spiritual teacher is helpful in this regard.
Your

Karma Cards

are the:
FIVE of Hearts
- You owe something to this person and they reflect you in some way.
FOUR of Clubs
- This person owes you and you are their mirror in some way.
FIVE
of Clubs
BIRTHDAYS
: March 31 (Aries), April 29 (Taurus), May 27 (Gemini), June 25 (Cancer), July 23 (Cancer/ Leo), August 21 (Leo),
September 19 (Virgo-Libra Cusp)

,
October 17 (Libra), November 15 (Scorpio), December 13 (Sagittarius);
FAMOUS
FIVE
of Clubs
Jeremy Irons
is an English actor. After receiving classical training at the Bristol Old Vic Theatre School, Irons began his acting career on stage in 1969, and has since appeared in many West End ... September 19, 1948 (age 67), Cowes, UK.
FAMOUS FIVE
of Clubs

:
Evel Knievel
,
Wild Bill Hickok, Pavel Bure, Gordie Howe, Al Gore, Andre Agassi, Uma Thurman, Michelle Pfeiffer, Daniel Day-Lewis, William Randolph Hearst, Henry Kissinger, Monica Lewinsky, Kim Cattrall, Jim Abbott, Eminem, Archie Moore, Jamie Foxx;
Source:
Robert Camp's Love Cards
.
FIVE of Clubs (Wands, Staves, Batons) in Tarot
FIVE of Clubs

: Versatile, restless, inquiring, and forever seeking with an ever changing mind; the 5 of Clubs is a young soul who is never satisfied with the answers they find. They need constant movement and wide travel -- eager to go anywhere rather than remain where they are. The positive natives of this card fight against their inherent restlessness, which otherwise lures them away from building a solid base. Those 5 of Clubs will then choose to educate themselves in some specialty that interests them, and will pursue it to a successful outcome. Marriage is never easy for the 5 of Clubs as they are prone to jealousy and suspicion. They also experience changes in their mental attitudes towards their partner and cause the marriage to falter. The Five of Clubs must have an outlet for their natural keenness. Education is of supreme importance if they are to succeed in life. And peace of mind comes from a willingness to accept their life as it must be lived -- constructively!
http://www.metasymbology.com/
VIRGO-LIBRA CUSP
:
The Cusp of BEAUTY September 19 - 24
Those born on the VIRGO-LIBRA CUSP are fatally taken up with the pursuit of an ideal. Attracted to physical, sensuous beauty, whether in art objects, nature or people, the lure of color, shape, form, texture and the intriguing sound of music or a voice pushes all their buttons and brings them creative inspiration. Influenced by the planets Mercury (ruler of Virgo) and Venus (
ruler
of Libra), those born on the Virgo-Libra cusp are extremely sensitive to external stimuli. They react strongly to
unusual
tastes and smells, and are easily jarred by disturbing sights and sounds. Those born on the Cusp of Beauty, then must create a highly aesthetic environment for both their living situations and their work.
Strengths:

Aesthetic-Sensuous-Harmonious
Weaknesses:

Snobbish-Addictive-Unsettled
VIRGO-LIBRA NOTABLE
Cass Elliot

, also known as
Mama Cass,
was an American singer, member of The Mamas & the Papas and actress. After the group broke up, she released five solo albums.
September 19, 1941, Baltimore, Maryland.
VIRGO-LIBRA NOTABLES
: Ray Charles,
Sophia Loren
, Stephen King, H.G. Wells,
Mama Cass, Bill Murray, F. Scott Fitzgerald.
Source:
The Secret Language of Relationships
Gary Goldschneider & Joost Elffers.
ADVICE

:

Don't be overly concerned with appearances. Keep alive in your search for beauty - avoid becoming jaded, trendy or compulsive. Beware of neglecting spiritual goals or falling prey to excessive materialism. Keep your nervous system under control.