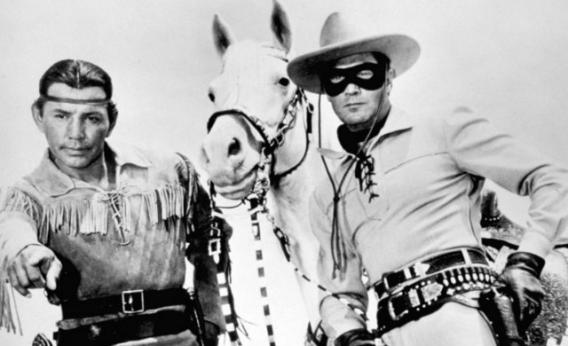 Clayton Moore
w
as an American actor best known for playing the fictional western character the

Lone Ranger

from 1949–1951 and 1954–1957 on the television series of the same name. September 14, 1914, Chicago, IL.
September Fourteenth the Day of the PERCEPTIVE CRITIC

: Those born on September 14 are very much concerned with the society in which they live. Both defenders and critics of their country and their times, they may feel it necessary to become involved not only intellectually but also actively in important projects which, as they see it, can better the human condition. Their role is to open people's eyes to the truth and in this respect to serve them.
STRENGTHS:

Observant, Effective, Efficient
WEAKNESSES:

Critical, Difficult, Impatient
ADVICE

:

Sometimes keep your opinions to yourself - they are not always appreciated. Learn to work behind the scenes. Beware of arousing resentment when you push others; let things happen in their own good time. No one has a monopoly on intelligence.
BORN ON THIS DAY

: Margaret Sanger,
Ivan Pavlov,
Kate Millett,
Dmitry Medvedev,
Charles Dana Gibson, Margaret Rudkin, Ettore Sotsass,
Clayton Moore
, Amy Winehouse;
Source:
The Secret Language of Birthday
s

Gary Goldschneider & Joost Elffers.
MEDITATION:

When Oedipus was blinded he lost his sight, but simultaneously gained insight.
Clubs -

Mind - Communication – Intelligence
10 of Clubs -

Mental Illumination
Karma for the 10 of Clubs -

Vacillation of Values
TEN
of Clubs: The TEACHER Card
: The Ten of Clubs have come full circle in their quest for knowledge. They have a powerful mind and a consuming desire for more knowledge as well. In this life they must learn to regain the control over their mind which has developed somewhat of a life of its own. The best path back to self-mastery is to direct the mind into right motives and higher principles. Their Three of Hearts in Mars makes for emotional restlessness, which can be a strain on relationships. The strong desire for spiritual wisdom and study of spiritual philosophies will bring contact with many uplifting groups and will increase enjoyment of life. The Ten of Clubs have good luck in work and labor relations and could do very well in the real estate business. Their Three of Diamonds Pluto Card signifies that in this life they will be doing much experimenting as they work towards finding out what really satisfies them. They often spend a lot of time deciding what is their life's work. Once they decide, they can rise to the heights. Choosing things that allow for freedom and travel gives them the best results.
Your

Karma Cards

are the:
Jack of Spades
- You owe something to this person and they reflect you in some way.
Four of Spades
- This person owes you and you are their mirror in some way.
TEN
of Clubs
BIRTHDAYS
: January 30 (Aquarius), February 28 (Pisces), March 26 (Aries), April 24 (Taurus), May 22 (Taurus/Gemini), June 20 (Gemini), July 18 (Cancer), August 16 (Leo),
September 14 (Virgo III)
,
October 12 (Libra), November 10 (Scorpio), December 8 (Sagittarius);
FAMOUS
TEN
of Clubs
Amy Winehouse
was an English singer and songwriter. She was known for her deep, expressive contralto vocals and her eclectic mix of musical genres, including soul, rhythm and blues, and jazz. Winehouse's debut album, Frank, was a critical success in the UK and was nominated for the Mercury Prize.
September 14, 1983, Enfield Town, UK.
FAMOUS
TEN
of Clubs:

Dick Cheney,
Dmitry Medvedev,
Vanessa Redgrave, Gene Hackman, Franklin D. Roosevelt, Bernadette Peters, Mario Andretti, Keira Knightley, Steven Tyler, Barbara Streisand, Shirley MacLaine, Naomi Campbell, Sir Laurence Olivier, Nicole Kidman, Errol Flynn, Van Diesel, Hunter S. Thompson, Steve Carell, Madonna, Kim Basinger, Hugh Jackman, Luciano Pavarotti, Richard Burton, Roy Scheider, Mary Queen of Scots.
Source:
Robert Camp's Love Cards
.
TEN of Clubs (Wands, Staves) in Tarot
TEN of Clubs:

The greatest success for the 10 of Clubs lies within the mental realm. This is also considered the Moon Card; known to astrologers as the emotional mind. Mental strength,
absurdness
, and will power are the trademarks of those born under this high card, as well as blind ego, and cunning. Ten of Clubs people are often suspicious of others, and demand loyalty from friends and family. They are known as task-masters within the family, and feel they are deserving of that title. They are afraid of being judged, and are insecure on a very deep level. All 10 of Clubs like to work, and for those instilled with a good sense of values early in life, success is theirs for the taking.
http://www.metasymbology.com/
VIRGO III - The Week of the LITERALIST September 11-18

: The willful individuals born in the week of VIRGO III generally persist until they get their way. Yet long periods may go by in which they refuse to take any sudden action. Their goals are so tangible to them, so real, that they may express their confidence in the final outcome through a kind of procrastination. VIRGO III's know that a strong mental orientation can often have a decisive influence on the events unfolding around them.
Strengths:

COMPOSED - NURTURING - CAPABLE
Weaknesses:

SENSATIONALISTIC - JUDGMENTAL - RUTHLESS
Advice

:

Try to be more sympathetic to the feelings of others. Not everyone is as strong-willed and directed as you. Don't get bottled up in your head; cultivating a love of food, sleep and sensuous activities is essential to the grounding of your energies. Do not hide behind or rely too heavily on those who would serve you.
VIRGO III Notable:
William Sydney Porter
,

known by his pen name
O. Henry
,
was an American pharmacist and author. O. Henry's short stories are known for their wit, wordplay, warm characterization, and surprise endings.

25 Days of Christmas, The Gift of the Magi, Ransom of the Red Chief, September 11, 1862, Greensboro, NC.
VIRGO III
NOTABLES

: H.L. Mencken,
Agatha Christie,
Greta Garbo, D.H. Lawrence, Lauren Bacall, O. Henry, Tommy Lee Jones, Jesse Owens, Henry V, B.B. King, Tom Landry.
Source:
The Secret Language of Relationships
Gary Goldschneider & Joost Elffers.