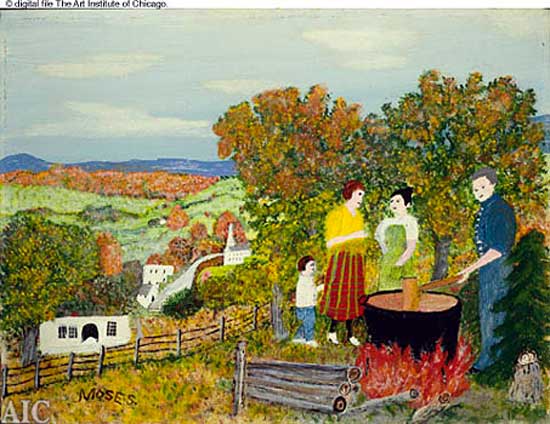 Anna Mary Robertson Moses
, known by her nickname
Grandma Moses
,
was a renowned American folk artist. September 7, 1860, Greenwich, NY.
September SEVENTH the Day of SUCCESS SEEKERS

: Novels could be written about September 7 people and their never ending pursuit of success. That they encounter obstacles on their way is indeed an understatement. The road is generally long, the difficulties manifold and perilous, but these determined individuals will not give up until they achieve what they have set out to do, even if it takes their dying breath to accomplish it.
Strengths:

Diligent, Goal-Oriented, Determined
Weaknesses:

Over competitive, Insensitive, Unforgiving
ADVICE

:

Find it in your heart to accept. Tilting with windmills is not all there is to life. Learn to enjoy yourself and then pas that gift to others. Don't be so hard on yourself and to those near and dear to you. An inflexible attitude plants seeds of rebellion.
BORN ON THIS DAY
: Queen Elizabeth I,
Elia Kazan
(stage film director),
Sonny Rollins ( Jazz
Saxophonist
), Grandma Moses (primitive painter, began career at 67), Peggy Noonan, Leslie Jones, Buddy Holly (singer rock & roll legend), J. P. Morgan Jr., Michael Debakey (
cardiac
surgeon), Paul Brown (American football coach), Warren Earl Burger, David Packard (HP engineer), Peter Lawford (actor).
Source:
The Secret Language of Birthdays
Gary Goldschneider & Joost Elffers.
Diamonds -

Values - Security – Dharma
4 of Diamonds -

Concentration on Security
Karma for the 4 of Diamonds -

Overcoming of Self

.
FOUR
of Diamonds: The Card of SOLID VALUES
: The Four of Diamonds is a card of protection in finances, however that protection is only accessed through hard work. This card, above most others, must put forth the effort to reap the rewards, but the rewards are surely there. To achieve this, they often have to come to terms with their own inner restlessness (Five of Spades Karma Card) and dissatisfaction. They never anything without paying some price for it. Often the work they must do involves their marriage or their closest relationships. These people are very sociable, meet many people, and usually have many friends. They have high ideals concerning love and often these ideals can cause confusion in real life romantic situations. There are difficulties to be dealt with in their life and they must watch a tendency to get into a rut and get stuck there. However, all they need to do to have more happiness is to work. Once they get into action, everything
smooths
out, and their fears are laid to rest.
Your

Karma Cards

are the:
FIVE of Spades
- You owe something to this person and they reflect you in some way.
FIVE of Hearts
- This person owes you and you are their mirror in some way.
FOUR
of Diamonds
BIRTHDAYS
: January 23 (Aquarius), February 21 ( Pisces), March 19 (Aries), April 17 (Aries), May 15 (Taurus), June 13 (Gemini), July 11 (Cancer), August 9 (Leo),
September 7 (Virgo II)
,
October 5 (Libra), November 3 ( Scorpio), December 1 (Sagittarius);
Bruce Willis
is an American actor, producer and singer. His career began on the Off-Broadway stage and then in television in the 1980s, most notably as David Addison in Moonlighting. March 19, 1955 (age 60), Idar-Oberstein, Germany.
FAMOUS

FOUR
of Diamonds:
Woody Allen.
Princess Caroline of Monaco, Ellen Page, Bruce Willis, Victoria Beckham, Jennifer Garner, Madeleine Albright, Mary-Kate and Ashley Olsen, Raz-B, Leon Spinks, Whitney Houston, Elia Kazan, Nikki Hilton, Roseanne,
Source:
Robert Camp's Love Cards.
FOUR of Diamonds (Pentacles, Coins, Disks) in Tarot
FOUR of Diamonds

: The importance of work is stressed for all 4's, and this is especially true of the 4 of Diamonds. There is inherent protection for this card, but only if they are making diligent and concentrated efforts in their lives. When this is lacking, poverty and failure - in varying degrees - are the sure results. A life of leisure is just not part of their life plan. This is by no means an easy card to deal with. They are known to rebel at the restrictions imposed by relationships, work and life circumstances. While they are basically materially oriented people, there is an underlying spiritual interest which should not be neglected! A good earning capacity belongs to this card but it is only through hard work that their dreams become a reality.
http://www.metasymbology.com/
VIRGO II The Week of the ENIGMA September 3-10

: Virgo II's are puzzling individuals, often proving difficult even for those closest to them to figure out.Their faces do not easily reveal what they are really thinking; indeed, showing emotion can be difficult for them. Behind their attractive or impressive exterior may lurk an unexpectedly guarded individual. Sphinx-like, Virgo II's are not above constructing devious defenses and cultivating an air of mystery about themselves and what they do. They sternly resist attempts to analyze them, and often make it clear that they are in no way interested in discussing their personal or family life. The reason for this is seldom insecurity, but showing vulnerability can be a problem for Virgo II's, and can keep other people from getting really close to them. So strong is the belief of Virgo II's in their own individuality that some of them will put themselves above accepted social codes. Such people can become isolated and lonely, appearing unapproachable Those born in the Week of the Enigma are blessed with great inner strength. Many Virgo II's inspire confidence in others, and they may often be called upon to help out or take charge. Yet those born in this week can find it difficult to respond when high expectations are placed on them. Their natural tendency at such moments is to withdraw into their private, often secretive world.
Strengths:

TASTEFUL - PRACTICAL - THOUGHTFUL
Weaknesses:
GUARDED -
OVER-EXACTING
- DETACHED
Advice

:

Try to maintain flexibility and acceptance without compromising your high standards. Open your heart in love relationships. Be aware of your condemning and unforgiving side. Gentleness, kindness and diplomacy are traits worth developing. Beware of putting yourself above the law or outside society. Don't be afraid to show your vulnerability.
VIRGO II NOTABLE Leslie Jones is an American comedian and actress who is a cast member on Saturday Night Live. Jones has been a featured performer at the Just for Laughs festival in Montreal and the Aspen Comedy Festival. September 7, 1967 (age 48), Memphis, TN.
VIRGO II
NOTABLES

: Peter Sellers,
Buddy Holly
,
Leo Tolstoy, Joseph P. Kennedy, Raquel Welch, Leslie Jones, Colonel Sanders, Patsy Cline, Queen Elizabeth I;
Source:
The Secret Language of Relationships
Gary Goldschneider & Joost Elffers.
Karma for the 4 of Diamonds -

Overcoming of Self

.