"Jack" Daniel Founder of his own line of Tennessee whiskey and the famed Jack Daniel's brand. His distillery was first licensed in 1875, He died from blood poisoning after kicking his safe for which he could never remember the combination. He was born the youngest of 10 children. He was close to his nephew Lem Motlow and gave him the distillery in 1907. September 5, 1850, Lynchburg, TN.
September FIFTH the Day of the FANCIFUL SOVEREIGN

: Those born on September 5 like to use their active and alert minds to dream up the most imaginative and romantic plans. They are very adept indeed at making such ideal notions real, but unfortunately can be highly unrealistic about their degree of success. Prone to excessive pride or indulgence, they may lose touch with reality and hence be afflicted with all kinds of maladies when they least expect them.
Strengths:

Imaginative, Romantic, Fun
Weaknesses:

Self-Destructive, Unaware, Excessive
ADVICE
:
Without losing your romantic sparkle, keep a firm grip on
reality
. You can't get away with breaking the rules forever - sooner or later the reckoning will come. Get to know yourself better, and like yourself more;
BORN ON THIS DAY
:
Darryl Zanuck
(founder of Hollywood),
Louis XIV (French king 73 year reign longest in Europe,
extravagant
Versailles palace court), Paul Volcker, Freddie Mercury, Farida (Egyptian queen), John Cage (composer, writer), Victor Davis Hanson, Werner Herzog (German visionary film director), Werner Erhard (EST founder), David Brabham (Aussie
race car
driver), Joan Kennedy (wife of Ted Kennedy), Jesse James, Jack Daniel, Raquel Welch (actress), Bob Newhart (comedian).
Source:
The Secret Language of Birthdays
Gary Goldschneider & Joost Elffers.
MEDITATION:

To the sleeper, the waking life is a dream.
Diamonds -

Values - Security – Dharma
6 of Diamonds -

Completion of Obligations
Karma for the 6 of Diamonds -

True Worth
SIX
of Diamonds: The Card of FINANCIAL RESPONSIBILITY
: The number six implies responsibility and diamonds relates to finances. Six of Diamonds people are keenly aware of debts and their repayment. Like all sixes they receive exactly what they put out. They may fall into slumps as a result of their inertia so they need to remember to prod themselves into action. Once they get going, they can attain most anything they anything they desire. There is protection for them in work and action, not in waiting for the lottery. Relationships: Underneath the tough exterior of the 6d lies a person who is having a difficult time meeting their needs for affection. There are often deep fears of abandonment that underlie much of what they do in their personal relationships. Until those fears are dealt with directly, they can have a hard time understanding the repeated failures that make up their love life. There is protection in work and action. On a deeper level, the Six of Diamonds is here to settle karmic debts from past lives. Finances can go from one extreme to the other in this process. If they accept what they inwardly know, they will always be happy whatever the circumstances in their life. If they have discovered their special mission in life, they will not worry about how much money they have. These people make great teachers. They are givers and can be entrusted with great responsibility. What they have to give is a clear knowledge of values and discrimination.
Your

Karma Cards

are the:
Nine of Clubs
- You owe something to this person and they reflect you in some way.
Three of Spades
- This person owes you and you are their mirror in some way.
SIX
of Diamonds
BIRTHDAYS
: January 21 (Cancer-Aquarius), February 19 (Aquarius-Pisces), March 17 (Pisces), April 15 (Aries), May 13 (Taurus), June 11 (Gemini), July 9 (Cancer),
August 7 (Leo)
,
September 5 (Virgo II)
, October 3 (Libra), November 1 (Scorpio);
FAMOUS
SIX
of Diamonds
Jesse James
was an American outlaw, gang leader, bank robber, train robber, and murderer from the state of Missouri and the most famous member of the James-Younger Gang. September 5, 1847, Kearney, Missouri.
FAMOUS
SIX
of Diamonds

:
Louis XIV
(French king 73 year reign longest in Europe,
,
Baby Spice, Geena Davis, Seal, Marquex Hemingway, Jeff Daniels, Kurt Russell, Rudolf Nureyev, Leonardo da Vinci, Stevie Wonder, Shia LaBeouf, Jacques Cousteau, Courtney Love, O.J. Simpson, Charlize Theron, David Duchovny, Rose McGowan,
Jesse James
, Ashlee Simpson;
Source:
Robert Camp's Love Cards
.
SIX of Diamonds (Pentacles, Coins, Disks) in Tarot
SIX of Diamonds

symbolizes the need for understanding VALUE. A very successful and satisfactory life can be built for the Six of Diamonds when money is not made the sole objective. The acquisition of knowledge is not easy for the Six of Diamonds; there are obstacles and frustrations for them. There may be difficulty in acquiring an education in early life -- or there may be unwillingness to bother with it on their own part. Money, however, is vital to the people born under this card. Often times they want to begin earning it even before they know where, or how! The women of this Card should strive not to depend on their personalities for success, and the men not seek a wealthy marriage to promote their own objectives. For both men and woman Six of Diamonds, finances tend to go to extremes and remain in one state for a long time -- either way up, or way down.
http://www.metasymbology.com/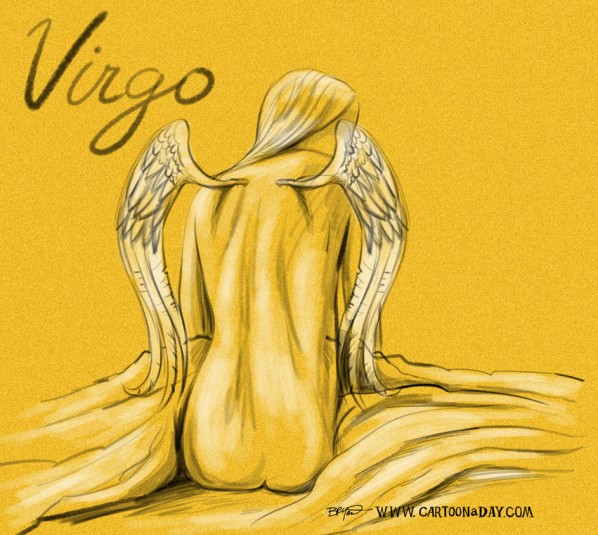 VIRGO II The Week of the ENIGMA September 3-10

: Virgo II's are puzzling individuals, often proving difficult even for those closest to them to figure out.Their faces do not easily reveal what they are really thinking; indeed, showing emotion can be difficult for them. Behind their attractive or impressive exterior may lurk an unexpectedly guarded individual. Sphinx-like, Virgo II's are not above constructing devious defenses and cultivating an air of mystery about themselves and what they do. They sternly resist attempts to analyze them, and often make it clear that they are in no way interested in discussing their personal or family life. The reason for this is seldom insecurity, but showing vulnerability can be a problem for Virgo II's, and can keep other people from getting really close to them. So strong is the belief of Virgo II's in their own individuality that some of them will put themselves above accepted social codes. Such people can become isolated and lonely, appearing unapproachable Those born in the Week of the Enigma are blessed with great inner strength. Many Virgo II's inspire confidence in others, and they may often be called upon to help out or take charge. Yet those born in this week can find it difficult to respond when high expectations are placed on them. Their natural tendency at such moments is to withdraw into their private, often secretive world.
Strengths:

TASTEFUL - PRACTICAL - THOUGHTFUL
Weaknesses:

GUARDED -
OVER-EXACTING
- DETACHED
Advice:

Try to maintain flexibility and acceptance without compromising your high standards. Open your heart in love relationships. Be aware of your condemning and unforgiving side. Gentleness, kindness and diplomacy are traits worth developing. Beware of putting yourself above the law or outside society. Don't be afraid to show your vulnerability.
VIRGO II NOTABLE
Raquel Welch
is an American actress and singer. She first won attention for her role in Fantastic Voyage, after which she won a contract with 20th Century Fox. They lent her contract to a British studio, for whom she made One Million Years B.C.
September 5, 1940 (age 75), Chicago, IL.
VIRGO II NOTABLES
: Peter Sellers,
Leo Tolstoy

,
Joseph P. Kennedy,
Raquel Welch, Buddy Holly
,
Colonel Sanders, Patsy Cline, Queen Elizabeth I;
Source:
The Secret Language of Relationships
Gary Goldschneider & Joost Elffers.