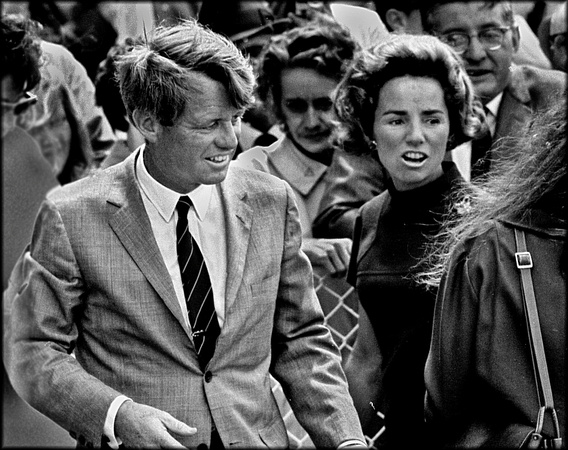 Robert Francis "Bobby" Kennedy,
commonly known by his initials RFK, was an American politician from Massachusetts. He served as a Senator for New York from 1965 until his assassination in 1968. November 20, 1925, Brookline, MA.
The Way of VERSATILITY: Mystery and Imagination to Oscillation

: The intelligent individuals on the Way of Versatility come into life with an approach that is heaviliy dependent on logic and analysis. This karmic path calls the individuals born to it to cultivate the feeling and intuitive side of their personalities and, in so doing, to become more heart-centered. Innovative and questioning, those on the Way of Versatility are blessed with many apitudes. But their objectivity may appear to others to be cold and some of their decisions heartless. They have all the intuitive and feeling gifts of anyone else; they just need to put them to better use. As they do so, they round out and balance their personalities. Eventually, having refined all their strengths, they will be able to switch back and forth between intuition and logic so smoothly and rapidly that they always seem to know the right thing to do or say. Maximizing their talents in this fashion means that they are not only agile but versatile. Though this karmic path promises considerable worldly success, the price for it is some hard work in the areas of relationship and feeling.
Strengths:

INNOVATIVE - BRILLANT - DAUNTLESS
Weaknesses:

COLD - ALOOF - SUPERIOR
GOAL:

To become heart-centered, combining both logic and intuition
CORE LESSON:

Developing their feeling/intuitive side
RELEASE:

The need to be detached
REWARD:

The joy of a fully integrated approach.
CHALENGE:

Not questing after intellectual stimulation while neglecting the needs of their hearts.
FULILLMENT:

Reveling in their capacity to do anything they set their hearts and minds on.
NOTABLES:

Bobby Kennedy

, Diana Ross, George Lucas, T.S. Eliot, Sammy Davis, Jr., Lenny Bruce, Dick Van Dyke.