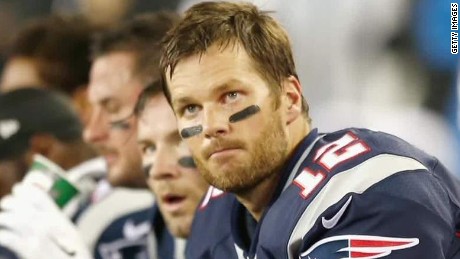 Thomas Edward Patrick "Tom" Brady, Jr
.
, nicknamed
Tom Terrific,
is an American football quarterback for the New England Patriots of the National Football League. August 3, 1977 (age 37), San Mateo, CA.
August THIRD the Day of the DANGEROUS QUEST

: Those born on August 3 are attracted to danger in one form or another. Their quest usually involves placing themselves in harm's way or rescuing others from harm. Their goal may also be to reveal the truth as they see it, regardless of risk. too often it is the risk itself rather than the truth that is of most importance to them. Those born on this day must beware of endangering others through their activities.
STRENGTHS:

Courageous, Idealistic, Determined
WEAKNESSES:

Reckless, Self-Destructive, Egotistic
ADVICE

:

Investigate carefully whether the poor victim really wants to be rescued. Beware of endangering yourself and others for no good reason. Don't dream your life away in idle, exciting fantasies. Seek an ideal of balanced, determined strength.
BORN ON THIS DAY

: Ernie Pyle, John T. Scopes, Jonas Savimbi, Leon Uris, Martin Sheen, Tony Bennett, Anne Klein, Stanley Baldwin, Martha Stewart,

Tom Brady

;
Source:
The Secret Language of Birthdays
Gary Goldschneider & Joost Elffers.
MEDITATION:

As with tigers, the female of the human species is also a capable hunter.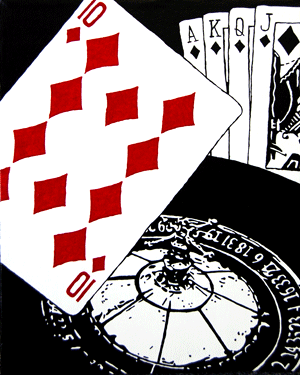 Diamonds -

Values - Security – Dharma

,
10 Diamonds -

Material Control

,
Karma for the 10 of Diamonds -

Expediency in Associations.
TEN of Diamonds: The BLESSED Card
: This card sits in the very center of the Grand Solar Spread of cards, protected on all sides by Jupiter's blessings. It is THE card of material opulence. With so many blessings, you might expect them to be generous souls, but that is not always the case. Many of them simply direct these blessings to the acquisition of more money and some of them even become ruthless in this regard. Others, however, pay heed to their Queen of Clubs Karma Card, the Mother Mary card, and devote their talents and resources to helping the world. In this way they use their natural intuition and fulfill a desire for devotion and service. With their creativity and intelligence, they are always successful in whatever they undertake. Usually this power is directed towards business and gain. Many of them inherit or marry into wealth. If they develop their spiritual awareness, their later years will be filled with expansion of their mind and soul instead of doubt and indecision.
Your

Karma Cards

are the:
Queen of Clubs
- You owe something to this person and they reflect you in some way.
Queen of Spades
- This person owes you and you are their mirror in some way.
TEN of Diamonds

BIRTHDAYS

: January 17 (Capricorn), February 15 (Aquarius), March 13 (Pisces), April 11 (Aries), May 9 (Taurus), June 7 (Gemini),July 5 (Cancer,)

August 3 (Leo),

September 1 (Virgo);
FAMOUS TEN of Diamonds Prince Roger Nelson, known by his mononym Prince, is an American singer-songwriter, multi-instrumentalist, and actor. June 7, 1958 (age 57), Minneapolis, MN.
FAMOUS

TEN of Diamonds: Kid Rock, Jim Carrey, Chris Farley, Ron Hubbard, Billy Joel, Mike Wallace, Anna Kournikova,

Prince

, Liam Neeson, Al Capone, Huey Lewis, P. T. Barnum, Martha Stewart, Gloria Estefan, Martin Sheen, Tony Bennet, Conway Twitty, J.D. Fortune;
Source:

Love Cards, by Robert Camp

, www.7thunders.com.
The TEN of Diamonds

is the most important of the money Cards, and not surprisingly, placed in the exact center of the Life Spread of Cards. Man chose to make money the pivotal point around which all life revolves, and the 10 of Diamonds is the most powerful of the money cards to symbolize its success. The majority of 10 of Diamonds make excellent merchants, and marketing execs, and will almost always succeed - one way or another - where money is concerned. The 10 of Diamonds like to stand well in the world, and want their surroundings to give evidence of prosperity. The positive 10 of Diamonds have a strong sense of universal obligation, and enjoy shining their spotlight of success on those less fortunate. While the negative 10 of Diamonds are able to amass their fortunes with equal brilliance, they are ruthless, and known to be self-centered.
http://www.metasymbology.com/
LEO II - The Week of BALANCED STRENGTH August 3-10:
Solid and tough, Leo II's do not back down from challenges; in fact, they thrive on them,and are often at their best when facing problems and difficulties. Although drawn toward experiences that hold
an element
of danger, they are usually not foolhardy enough to attempt the impossible. Realists, they are well aware of their limitations, which
they may
stretch to the limit if necessary but will rarely try to
over leap
. Fixed
attitudes
characterize those born in this week, so it will take a great deal of persistence to get them to change their mind. Leo II's pride themselves on their ability to spot phoniness and nonsense, and are particularly critical of metaphysical ideas not strongly grounded in the here and now.
Strengths:

Devoted, Trustworthy, Physical
Weaknesses:

Masochistic, Depressed, Guilty
ADVICE

:

Watch your temper. Hotheadedness can throw you off balance and aid your opponent.Compromise and diplomacy are virtues to be cultivated, not weaknesses to be despised. Remain open and vulnerable to love. Don't be too hard on yourself, or too demanding. Ease up a bit on the expectations you place on others.
LEO II NOTABLE
Margaretha Geertruida "Margreet" MacLeod
,
better known by the stage name
Mata Hari,
was a Frisian exotic dancer and courtesan who was convicted of being a spy and executed by firing squad in France
August 7, 1876, Leeuwarden, Netherlands.
LEO II NOTABLES

: Whitney Houston, John Huston, Patrick Ewing, Andy Warhol, Melanie Grifth,

Mata Hari

, Anne Klein, Martha Stewart, Dustin Hoffman, Courtney Love, Tony Bennett, Lucille Ball, Maurice Richard, Neil Armstrong, Louis Leakey, Alfred Lord Tennyson, Esther Williams, Bob Cousy. S
ource:
The Secret Language of Relationships
Gary Goldschneider & Joost Elffers.