Angela Merkel is a German politician and a former research scientist who has been the leader of the Christian Democratic Union since 2000 and the Chancellor of Germany since 2005. She is the first woman to hold either office. July 17, 1954 (age 60), Hamburg, Germany.
July SEVENTEENTH the Day of CAREER CONCERNS

: Those born on July 17 often manifest a great urge to become a star or rise to the top in their career. Yet this desire is belied by their modest, serious, even shy demeanor. One should not mistake their quietness for passivity or reclusiveness, however, for in their chosen field of endeavor they are dynamic personalities to be reckoned with. Behind a serious exterior often lies a fine sense of humor which comes out when they are relaxed. less highly evolved individuals born on this day may be frustrated with their lives because they have not yet discovered their strengths nor acknowledged the latent ambition that simmers within them.
STRENGTHS:

Ambitious, Serious, Self-Confident
WEAKNESSES:

Overconfident, Unapproachable, Hardened
ADVICE

:

Give at least as much as you get. Avoid manipulating those close to you; make your intentions clear. Don't sacrifice human concerns for your ambition. Lighten up and let yourself laugh.
BORN ON THIS DAY

: John Jacob Astor,
James Cagney,
John Paul Jones, Donald Sutherland, Earle Stanley Gardner, Diahann Carroll, Phyllis Diller,

Angela Merkel

, Camilla Parker Bowles;
Source:
The Secret Language of Birthdays
Gary Goldschneider & Joost Elffers.
MEDITATION

:

Problems in life are simply challenges to grow.
Clubs -

Mind - Communication – Intelligence
Jack of Clubs -

Mental Inspiration
Karma for the Jack of Clubs -

Fear of Established Wisdom
The JACK
of Clubs - The MENTALLY CREATIVE Card
: Creative or dishonest? Which is which? As we can imagine, those who are the most creative can also be the most dishonest and vice versa. Here is a card of mental and financial creativity and these people are no lazy bones. Their brilliant minds are far ahead of the common person and society. They are the people of the Aquarian Age. As members of the royal family they the royal family they dislike pettiness and tend to be somewhat impatient with the failings of others. They need respect and a position that allows their brilliant minds free reign to create and explore. They are never at a loss for ideas, some of which will bring them huge financial returns. On the negative side, the Jack of Clubs can be irresponsible and in some cases, dishonest. They can see things from so many levels that nothing is really "wrong" - it is just another way of looking at things. They don't get away with much in that regard though. Saturn's swift chastisement always reminds them of the boundaries that keep them balanced and fair in their dealings.
Jack of Clubs

, are marriageable and many are happily married. They are considered sexually neutral – half man and half woman. The women especially will often have that "ambi-sexual" look about them. The men are generally boyish and good looking. And they have a reputation as being the best lovers in the deck. However, they do have a strange trait. Once a Jc man marries a woman, he produces an exhaustive list of "shoulds" and "should-nots" that he expects her to follow. Also, many Jc marry a Four of Diamonds (4d). When they meet a 4d, they meet the woman, or man, of their dreams.
Your

Karma Cards

are the:
Jack of Diamonds
- You owe something to this person and they reflect you in some way.
Ten of Hearts
- This person owes you and you are their mirror in some way.
JACK
of Clubs
BIRTHDAYS
: January 29 (Aquarius), February 27 (Pisces), March 25 (Aries), April 23 (Aries-Taurus Cusp), May 21 (Taurus/Gemini), June19 ( Gemini),
July 17 (Cancer)
,
August 15 (Leo), September 13 (Virgo), October11 (Libra), November 9 (Scorpio), December 7 (Sagittarius);
FAMOUS
JACK
of Clubs
Oprah Gail Winfrey
is an American media proprietor, talk show host, actress, producer, and philanthropist. January 29, 1954 (age 61), Kosciusko, Mississippi.
FAMOUS

JACK
of Clubs: Oprah Winfrey,
Sarah Jessica Parker
,
John Forsythe, Elizabeth Taylor, Rozanda Chilli Thomas, Aretha Franklin, Notorious B.I.G., Michael Moore, Mr. T, Fats Waller, Brian Head Welch, Kathleen Turner, Salman Rushdie, David Hasselhoff, Camilla Parker Bowles, Ben Affleck;
Source:
Robert Camp's Love Cards
www.7thunders.com
JACK of Clubs

; this is a card of memory and as a rule, the Jack of Clubs people have this gift in an extraordinary degree. The Jack of Clubs is often called the Card of the Future. It is used as one of the symbols of the androgynous state towards which the race is evolving. Many of the women of this card have masculine minds and masculine habits in life. They are seldom domestic, never clinging vines, and have little patience with pettiness or vanity. Negatively there is irresponsibility, idle curiosity, and escape into a multitude of unfortunate life experiences, far removed from the wisdom they have come to preach. For all Jack of Clubs, victory against the many obstacles in life will be found in their positive application of knowledge and their willingness to share it!
http://www.metasymbology.com/
CANCER III - The Week of the PERSUADER July 11-18
: Cancer III people know how to convince others of their worth and get them to do their bidding. Powerful manipulators of their environment, Cancer III's often manifest great drive and determination. Even the shyest and most retiring Cancer III's nurse private ambitions; the more aggressive of those born in t week make little effort to
conceal
their desire to rise to the top of their profession. The underlying dynamic of their character, however, is that success, for them, is the best antidote for uncertainty. Yet they rarely fail to fall victim to blind ambition,
preferring
to invest in themselves than indulge in materialism or ego-tripping.
Strengths:

ENTERPRISING - PERSUASIVE - OBSERVANT
Weaknesses:

EXCESSIVE - MANIPULATIVE - INSECURE
Advice

:

Don't be too sure you know what is right for people. Work to keep your own house in order. Allow others to express themselves freely. Perhaps no one doubts your good intentions, so it may not be necessary to justify them. Be confident of your abilities at a deep level.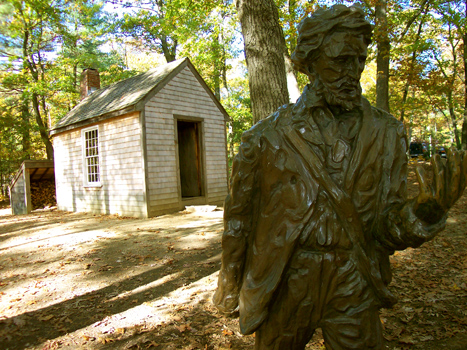 CANCER III NOTABLE Henry David Thoreau was an American author, poet, philosopher, abolitionist, naturalist, tax resister, development critic, surveyor, and historian. July 12, 1817, Concord, MA.
CANCER III NOTABLES
: Bill Cosby,
Rembrandt,
Nelson Mandela, Julius Caesar, Henry David Thoreau, Harrison Ford, James Cagney, Georgio Armani, Mary Baker Eddy, Buckminster Fuller, Cesar Chavez, Donald Sutherland, Ginger Rogers, Woody Guthrie, Yul Bryner, Oscar Hammerstein, Andrew Wyeth, Van Cliburn.
Source:

The Secret Language of Relationships

Gary Goldschneider & Joost Elffers.