Antoni
Gaudí
i Cornet
was a Spanish Catalan architect from Reus and the best known practitioner of Catalan Modernism.
Gaudí's
works reflect an individualized and distinctive style. June 25, 1852, Reus, Spain.
June TWENTY-FIFTH - The Day of the SENSITIVE RECEPTOR

: June 25 people have a rare capacity for realizing their dreams. Reasons for their success include a knowledge of the environment surrounding them and the times in which they live, as well as a sensitivity to what works and what doesn't. Thus they are not only tuned into people and events but also may be able to capitalize on the opportunities presented to them. Financial success can be theirs if they can put their empathetic powers to work, but they may suffer financial reversals or even poverty before they realize this potential.
ADVICE

:

Strive to maintain some degree of objectivity in regard to your feelings. Protect yourself when necessary, but remain open to positive influences. Cultivate mental discrimination. Beware of mistaking someone else's feelings for your own.
Strengths:

EMPATHETIC - PERCEPTIVE - ORIGINAL
Weaknesses:

OVERSENSITIVE - MOODY - UNSURE
BORN ON THIS DAY

: George Orwell,
Anthony Bourdain
,
Sonia Sotomayor,
Antonio Gaudi

, Robert Venturi, June Lockhart,
James Meredith, Carly Simon,
Denys Arnold.
Source:
The Secret Language of Birthdays
Gary Goldschneider & Joost Elffers.
MEDITATION:

The most amazing place you will ever be in your life is where you are right now.
Clubs -
Mind - Communication – Intelligence
5 of Clubs -

Changes in Mental Attitude
Karma for the 5 of Clubs –
Skepticism
FIVE
of Clubs: The MENTALLY and EMOTIONALLY RESTLESS Card
: Five of Clubs means changes and restlessness of the mind and we find these people to have a lot of curiosity and restlessness in their lives. Their Five of Hearts Karma Card tells us that they also have many changes in their romantic life as well and for this reason they are not usually well suited for marriage. They have the Ace of Spades in Venus and that speaks of secret love affairs and indecision about which to choose. Their Seven of Diamonds in Jupiter is a millionaire's card and many of them have lots of money, though they often spend it as fast as they get it. Speculation & gambling should be avoided. Their natural curiosity brings them much knowledge, but they often do not apply it or stick to one train of thought. This tends to make them skeptics, not even getting satisfaction from their own self- created belief structures. An interest in spiritual studies brings more satisfaction in their later years and provides answers that bring more peace to their lives. A spiritual teacher is helpful in this regard.
Your Karma Cards

are the:
FIVE of Hearts
- You owe something to this person and they reflect you in some way.
FOUR of Clubs
- This person owes you and you are their mirror in some way.
FIVE
of Clubs BIRTHDAYS: March 31 (Aries), April 29 (Taurus), May 27 (Gemini), June 25 (Cancer), July 23 (Cancer/ Leo), August 21 (Leo), September 19 (Virgo), October 17 (Libra), November 15 (Scorpio), December 13 (Sagittarius);
FAMOUS
FIVE
of Clubs
Eric
Arthur Blair
, who used the pen name
George Orwell
,
was an English novelist, essayist, journalist and critic. June 25, 1903, Motihari, India.
FAMOUS
FIVE
of Clubs:
Wild Bill Hickok
, Pavel Bure, Gordie Howe, Al Gore, Andre Agassi, Uma Thurman, Michelle Pfeiffer, Daniel Day-Lewis, William Randolph Hearst, Henry Kissinger, Monica Lewinsky, Kim Cattrall, Jim Abbott,
George Orwell
, Eminem, Evel Knieval, Archie Moore, Jamie Foxx;
Source:
Robert Camp's Love Cards
.
FIVE of Clubs (Wands) in Tarot
FIVE of Clubs

: Versatile, restless, inquiring, and forever seeking with an ever changing mind; the 5 of Clubs is a young soul who is never satisfied with the answers they find. They need constant movement and wide travel -- eager to go anywhere rather than remain where they are. The positive natives of this card fight against their inherent restlessness, which otherwise lures them away from building a solid base. Those 5 of Clubs will then choose to educate themselves in some specialty that interests them, and will pursue it to a successful outcome. Marriage is never easy for the 5 of Clubs as they are prone to jealousy and suspicion. They also experience changes in their mental attitudes towards their partner and cause the marriage to falter. The Five of Clubs must have an outlet for their natural keenness. Education is of supreme importance if they are to succeed in life. And peace of mind comes from a willingness to accept their life as it must be lived -- constructively!
http://www.metasymbology.com/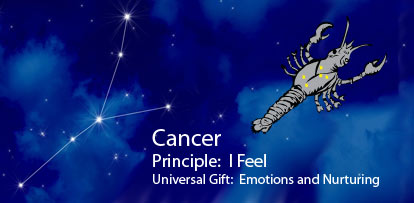 CANCER I - The Week of the EMPATH June 25-July 2

: Cancer I's are hard to figure out. Emotionally complex, they combine sharply contrasting qualities in their psychological makeup. They may give entirely different impression than in another, according to their mood. A Cancer I may strike one person as outgoing, another as negative and depressive, still others as easygoing, others as difficult. Only those who live with Cancer I's day in and day out are fully able to appreciate their depth and diversity.
Strengths:

Financially Astute, Sensitive, Technically Proficient
Weaknesses:

Aggressive, Fearful, Needy
Advice

:

Don't armor yourself too heavily - on the other hand, remain discriminating. Allow others the freedom to take risks. Though your salesmanship may be excellent, it is not always appreciated. Don't only challenge your fears - overcome them through self-liberation and action.
CANCER I
NOTABLE
Gilda Radner
was an American comedienne and actress. She was an original cast member of the hit NBC sketch comedy show Saturday Night Live, for which she won an Emmy Award in 1978. June 28, 1946, Detroit, MI.
CANCER I NOTABLES

: Helen Keller,
Kathy Bates,
Hermann Hesse, Lady Diana Spencer, Mike Tyson, Ross Perot, Babe Zaharias, George Orwell, Richard Rogers, Lena Horne,

Gilda Radner

, John Cusack, Dan Aykroyd, Mel Brooks, Pamela Anderson, Pearl Buck, Meyer Lansky.
Source:
The Secret Language of Relationships
Gary Goldschneider & Joost Elffers.
Karma for the 5 of Clubs –
Skepticism
.