Edward Joseph
"Ed"
Snowden
is an American computer professional, former CIA employee, and government contractor who leaked classified information from the U.S. National Security Agency in 2013. June 21, 1983 (age 32), Elizabeth City, NC.
June TWENTY-FIRST the Day of WORLDLY RAPTURE
: Those born on June 21 are obsessed with life, with every aspect of existence. Whether intellectuals or sensualists, aristocratic or
plebeian
, they thirst after the experiences of the world, and those who live in developed countries often come to symbolize all that is best and worst about modern capitalist society. Not infrequently they are money-wise, even brilliant with family or company finances. Extremely success-oriented, they have tendency to become autocratic and tolerate little departure from their own ethical codes. The fact that June 21 marks the summer solstice, the longest day and shortest night of the year, symbolizes the rich worldly nature of this day.
ADVICE

:

Don't let your ego run away with you. If you allow yourself freedom, what about everyone else? Let each person have their due; don't be so overwhelming and controlling. Keep your appetite for pleasures and enjoyments appropriate to the occasion. Maintain your poise. Allow yourself to vegetate occasionally.
Strengths:

Enraptured, Critical, Sensual
Weaknesses:

Uncontrolled, Addictive, Dictatorial
BORN ON THIS DAY

: Snowden,
Al Hirschfeld
,
Jean-Paul Sartre, Benazir Bhutto (first women to head a Moslem country), Jussie Smollett, Paolo Soleri, Maurice Saatchi, Maureen Stapleton, Carl Stokes (first black mayor Cleveland, Ohio), Jane Russell, Judy Holliday, Prince William.
Source:
The Secret Language of Birthdays
Gary Goldschneider & Joost Elffers.
MEDITATION:
William Blake said, "The road of excess leads to the Palace of Wisdom." This may be true - but will the traveler arrive?
Clubs -

Mind - Communication – Intelligence
9 of Clubs -

Mental Control
Karma for the 9 of Clubs -

Mental Weakness
NINE
of Clubs
:
The Card of UNIVERSAL KNOWLEDGE & The GIVER of KNOWLEDGE
: Though this is a card of expanded consciousness, it is also a card of negative thinking. These people must let go of many negative mental patterns accumulated from past lives if they are to access the inherent power in this card. There are many who do and who have reached the very heights of recognition. This is a card of sexual enjoyment and pleasure seeking. If this is allowed to dominate, much time and energy is wasted that would otherwise elevate them to great accomplishment. The Nine of Clubs is here to end a major cycle in their soul's development, a completion that should see them giving their wealth of knowledge to the world. There are some debts to be paid, especially to the Six of Diamonds and Queen of Hearts, but once these debts are paid, they can proceed with their cosmic task of enlightening the world. Financially they are always assisted by diamond men and they do well in their own business if they don't let it spoil their spiritual values. They cannot be totally materialistic or mercenary.
Your

Karma Cards

are the:
Queen of Hearts
- You owe something to this person and they reflect you in some way.
Six of Diamonds
- This person owes you and you are their mirror in some way.
NINE
of Clubs
BIRTHDAYS
: January 31 (Aquarius), February 29 (Pisces), March 27 (Aries), April 25 (Taurus), May 23 (Gemini),
June 21 (Gemini/Cancer)
, July 19 (Cancer), August 17 (Leo), September 15 (Virgo), October 13 (Libra), November 11 (Scorpio), December 9 (Sagittarius);
FAMOUS NINE
of Clubs Leonardo Wilhelm DiCaprio is an American actor and film producer. He has been nominated for ten Golden Globe Awards, winning two, and five Academy Awards. November 11, 1974 (age 40), Hollywood, Los Angeles, CA.
FAMOUS
NINE
of Clubs:

Justin Timerlake,
Henry Ossawa Tanner
,
Minnie Driver, Kelly Lynch, Stavy "Fergie" Ferguson ( Fergalicious ), Mariah Carey, Quentin Tarantino, Renee Zellweger, Al Pacino, Joan Collins, Prince William, and Prince Harry (!), Sean Penn, Robert DeNiro, Oliver Stone, Zane Grey, Kelly Preston, Ashanti, Margaret Thatcher,
Leonardo DiCaprio,
Demi Moore;
Source:
Robert Camp's Love Cards
.
NINE of Clubs (Wands) in Tarot
The NINE of Clubs

: As a rule, these people have warm and friendly personalities, a keen sense of obligation, and they keep promises and their pay debts. The 9 of Clubs is the "Adventurer's Card". They like to gamble and are always willing to take a chance for the satisfaction of curiosity or interest. When their adventurous spirit extends to the field of knowledge, they often become extremists capable of making some fantastic discovery that will benefit others on an international scale. The first 13 years of life are usually the most difficult of their lifetime. Many harsh lessons are learned through the actions of a domineering and sometimes violent father. However, these early difficulties tend to disappear when they are in their late teens or early 20's - or - as soon as they are able to lay aside their self-protective negativity, and embrace a more universal approach to life.
http://www.metasymbology.com/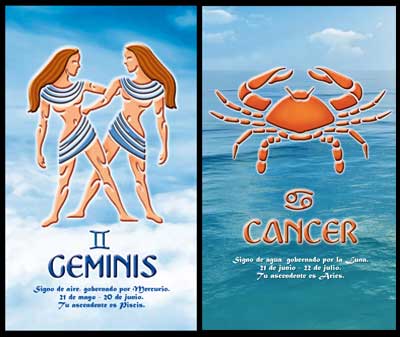 GEMINI-CANCER CUSP - The CUSP of MAGIC June 19-24

: Those born during the magical cusp of the summer solstice quickly fall under the spell of enchantment. Romantic and inspirational, Gemini-Cancers often put their talents and energies in service of a higher purpose, be it family, religion, philosophy, arts or political or social causes. Because they can wholeheartedly throw themselves into devotional activities, those born on this cusp often appear as mild, even self-effacing. For many of these individuals, anonymity is a goal in any career they follow. There are also more aggressive Gemini-Cancers, however, who become assertive as they mature and have few problems letting the world know who they are.
Strengths:

Affectionate, Seductive, Objective
Weaknesses:

Isolated, Selfish, Demanding
GEMINI-CANCER CUSP NOTABLE
Maureen Stapleton
was an American actress in film, theater and television. She was nominated for the Academy Award for Best Supporting Actress for Lonelyhearts, Airport and Interiors, before winning for her performance as Emma Goldman in Reds. All in the Family as Mrs. Archie Bunker
June 21, 1925, Troy, NY.
GEMINI-CANCER CUSP NOTABLES

: Meryl Streep,
Jussie Smollett,
Wallis Simpson, Edward VIII, Aung San Suu Kyi (Burma peace advocate), Carl Stokes

(first black mayor of major U.S. city), Maureen Stapleton.
Source:

The Secret Language of Relationships,

Gary Goldschneider & Joost Elffers.
ADVICE:
Exercise your magical powers with care.
Karma for the 9 of Clubs -
Mental Weakness