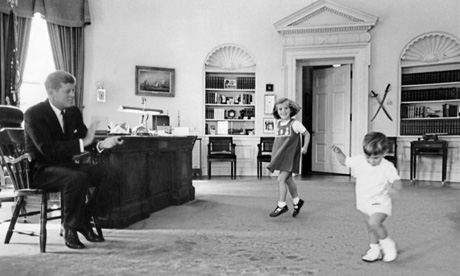 John Fitzgerald Kennedy
,
commonly known as

Jack Kennedy

or by his initials

JFK

, was an American politician who served as the 35th President of the United States from January 1961 until his assassination in November 1963. May 29, 1917, Brookline, MA.
May TWENTY-NINTH the day of the QUICKSILVER

: Major themes in the lives of May 29 people include revelation, tradition and the exchange of ideas. Drawn to the dramatic situations and happenings, these are not individuals likely to shrink from struggle or submit to injustice. Upholders or revealers of the truth as they see it, they will lend themselves to causes and work for organizations whose destiny they can have a hand in shaping. As employers, parents or administrators, May 29 people seek consensus rather than dictate, and have a talent for taking the best from suggestions and criticism.
ADVICE

:

Don't be afraid to seek help; share your problems with others. You don't have to be perfect. Learn to protect yourself against external danger; take fewer risks. Control your chauvinism as far as your personal likes and dislikes are concerned;
Strengths:

Committed, Protective, Expressive
Weaknesses:

Repressed, One-Track, Combative
BORN ON THIS DAY
:
Patrick Henry
("Give me liberty or give me death."), Bob Hope, Al Unser Sr., Fay Vincent, Latoya Jackson, Beatrice Lillie, John Hinckley,
John F. Kennedy
;
Source:
The Secret Language of Birthdays
Gary Goldschneider & Joost Elffers.
MEDITATION

:

The tyrant and the murderer are temporarily insane in their denial of the right to live.
Meaning of the Three of Clubs
Uncertainty in Beliefs
Karma for the 3 of Clubs:
Faith
The THREE of Clubs the 'WRITER'S Card

: The creativity in this card can manifest in many ways. On the high side, these people can be highly successful writers, teachers or performers. On the low side, they can worry, become indecisive and spend their time on frivolous activities. Even among the most successful (3c) we find worry and indecision as more-or-less constant themes in their life. Success in life always depends upon the individual and how they use their God given gifts and abilities. (3c) are gifted but their fear of poverty may entice them into using their creativity in questionable ways. If this happens, they seldom get away with it. They make great salespeople and propagandists, but they are ineffective until they decide upon one philosophy and stand behind it. This is one of the strongest business cards. Their (Kd) second Karma Card gifts them with natural business ability. They gravitate toward big money and big business and can easily position themselves in leadership wherever they work. The
FIVE of Diamonds
(5d) first
Karma Card
, however, causes them to choose occupations where their freedom is not hampered too much. Thus, they will often choose to work for themselves or to freelance. Their natural gifts are creative and many become prominent authors, speakers or producers in the entertainment industry.
KING of Diamonds

owes you a

karmic debt

and they mirror you in some way. They are sure to have some emotional losses - relationships that they think should last forever but don't many of which are destined and karmic in nature. If they see them as 'completions' and graduations to a higher level, they can avoid disappointment. Their love has the potential to be realized on a more universal level. If they utilize their inheritance of spiritual knowledge, much success can be realized. They are here to be transformers of energy - worry into creativity and fear into faith. In this manner they serve as powerful examples for us all.
Source:
Robert Camp's Love Cards
THREE
of Clubs
BIRTHDAYS
:
May 29 (Gemini)
, June 27 (Cancer), July 25 (Leo), August 23 (Leo-Virgo), September 21 (Virgo), October 19 (Libra), November 17 (Scorpio), December 15 (Sagittarius);
FAMOUS THREE
of Clubs Kobe Bean Bryant is an American professional basketball player for the Los Angeles Lakers of the National Basketball Association. August 23, 1978 (age 36), Philadelphia, PA.
FAMOUS
THREE
of Clubs
:
LaToya Jackson
, John F. Kennedy, Adrian Paul, Tobey Maguire, H. Ross Perot,
Kobe Bryant
, Gene Kelly, Nicole Richie, Faith Hill, Bill Murray, Stephan King, J. Paul Getty, Don Johnson, Danny DeVito, Lauren Hutton, Ty Pennington, Evander Holyfield;
THREE of Clubs (Wands) in Tarot
THREE of Clubs

people are incredibly bright, creative and magnetic. And thank goodness because on the flip side, the 3 of Clubs have the worst case of indecision known to man! It is the inherent creativity and personable karma of this wonderful card that gets them where they need to go, bringing rewards of success into their ever-active life. There is often difficult karma with older women for the Three of Clubs, and they tend to suffer at the hands of a troubled mother, grandparent, or older sister. No stranger to emotional disappointments, they have had to learn the art of resilience and developed a terrific personality along the way. Three of Clubs people often change careers later in life. They make excellent realtors, entertainers, and public spokespeople.
http://www.metasymbology.com/
GEMINI I - The Week of FREEDOM May 25-June 2

: Gemini I's balk at restrictions and aim to maintain their freedom at all costs. Generally on the side of the individual, they hate oppression and exploitation, opposing them both in theory and in practice. Gemini I's will not usually back down from a fight. Naturally combative they stick up for what they believe is right and will not hesitate to attack wrongdoing in any form, be it moral or practical, for Gemini I's believe there is a right way and a wrong way to do things, and that only the right way will yield uniformly positive results. One of their strongest weapons is laughter or ridicule, which they do to pull out of their formidable verbal arsenal. Still, Gemini I's are willing to give the other fellow a second chance. Resilient, they will not quit valuable relationships easily; instead, they hang in there, letting go of resentments.
Strengths:

WITTY - CHARISMATIC - TECHNICALLY GIFTED
Weaknesses:

TYRANNICAL - MANIPULATIVE - COMPLAINING
Advice

:

Work to finish what you start. Develop the patience to interact fully with others. Your ideals may have to be sacrificed at times for the sake of harmony. Avoid escapism in its manifold guises. Keep busy and happy, but do not neglect your inner emotional life.
GEMINI I NOTABLE
"Walt" Whitman
was an American poet, essayist and journalist. A humanist, he was a part of the transition between transcendentalism and realism, incorporating both views in his works. May 31, 1819, West Hills, New York.
GEMINI I NOTABLES

:
Clint Eastwood,
Marilyn Monroe, John Fitzgerald Kennedy,
Walt Whitman
, Isadora Duncan, , John Wayne, Morgan Freeman, Hubert Humphrey, Ralph Waldo Emerson, Wild Bill Hickok.
Source:

The Secret Language of Relationships

Gary Goldschneider & Joost Elffers.