George Washington Carver
,
was an American botanist and

inventor of peanut butter.

The exact day and year of his birth are unknown; he was born into slavery in Missouri, either in 1861, or January 1864. Diamond, MO.
May TWENTY-FOURTH the Day of the MAGNIFIER

: Those born on May 24 seem to have an opinion on every issue under the sun. Their main interest, however, is in society and their orientation toward it can range from mildly critical, to outspoken or even revolutionary. Usually possessed of a quick mind and caustic tongue, May 24 people rarely leave others in the dark very long about where they stand on a subject. The problem is, however, that every few years (or even weeks), their viewpoints may shift, and therefore people around them may be left bewildered, standing with their mouths open in amazement.
Strengths:

Expressive, Incisive, Socially Involved
Weaknesses:

Self-Centered, Caustic, Closed
ADVICE
:
Slow down lest your frenetic pace and demands wear others out. Learn to control your tongue and be less
judgmental
. Be more faithful to your friends and your beliefs. Avoid making pronouncements from on high.
BORN ON THIS DAY
:
Gary Burghoff
(M*A*S*H 'Radar'),
Queen Victoria,
Bob Dylan
,
George Washington Carver
, Jan Christian Smuts ( South African prime minister, general, holistic thinker), Patti LaBelle (singer), Samuel I. Newhouse (publisher), Elsa Maxwell, Priscilla Presley,
;
Source:
Robert Camp's Love Cards
.
MEDITATION:
For many people, the bedroom is the battlefield.
Clubs -

Mind - Communication – Intelligence
8 of Clubs -

Power of the Mind
Karma for the 8 of Clubs -

Fear of Domination
EIGHT
of Clubs: The Card of MENTAL POWER
The Eight of Clubs is one of the three, "fixed" cards. With their strong mental power, they are not easily swayed by others' views and opinions. Many successful attorneys, chemical engineers and rocket scientists are Eight of Clubs, however their power can be applied to any of the mental fields with great success. Their life path is one of the most successful in the deck. They can have almost anything they set their mind to achieving and most attain wealth and prominence but they must make sure their life is kept in balance as mental peace is essential. They have much psychic power and can be great healers. All of their gifts can be applied to attain great success and they only need to become aware of their true goals to have a life of success and accomplishment. However, being so fixed has its own drawbacks, mainly that it is difficult for them to deal with changes. Working with a Jack of Hearts or King of Spades will bring far reaching success. For best results, they should let their work come before their personal lives and keep them separate.
Your

Karma Cards

are the:
Jack of Hearts,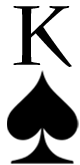 - These two cards are your main Karma Cards. You have the strongest connections with them.
EIGHT
of Clubs
BIRTHDAYS
: March 28 (Aries) April 26 (Taurus)
May 24 (Gemini)
June 22 (Gemini or Cancer) July 20 (Cancer) August 18 (Leo) September 16 (Virgo) October 14 (Libra) November 12 (Scorpio) December 10 (Sagittarius);
FAMOUS
EIGHT
of Clubs
Priscilla Ann Presley
is an American actress and business magnate. She is the former wife of the late entertainer Elvis Presley as well as co-founder and former chairwoman of Elvis Presley Enterprises, ...
May 24, 1945 (age 72), Brooklyn, NYC, NY.
FAMOUS
EIGHT
of Clubs:
Elizabeth Warren
,
Vince Vaughen, Jet Li, Carol Burnett,

Priscilla Presley

,

Bob Dylan

, Tommy Chong, Cyndi Lauper, Meryl Streep, Lindsay Wagner, Ed Bradley, Billy Wilder,

John Dillinger,

Natalie Wood, Gisele Bundchen, Patrick Swayze, Roman Polanski, Nick Jonas, David Copperfield, Usher, Roger Moore, Neil Young, Ryan Gosling, Susan Dey, Emily Dickinson;
Source:
Robert Camp's Love Cards.
EIGHT of Clubs (Wands, Rods) in Tarot
EIGHT of Clubs

: When the 8 of Clubs are able to clarify their objectives, they always go straight towards them and attain them. It's getting to that point of clarity, which can be a problem. Through the "power of knowledge" - the natural heritage of the 8 of Clubs - they can overcome all obstacles and attain any desire. In many ways, Eight of Clubs people are like cats that always land on their feet. Protection surrounds them in all departments of life and yet it is this very blessing that is also their biggest bugaboo. Eight of Clubs must strive for mental balance and compassion. They have very strong emotions and fixed ideas that can become overpowering. Especially when they try to dominate the lives of those they love.
http://www.metasymbology.com/
TAURUS-GEMINI CUSP: The Cusp of Energy May 19 - 24

: Those born on the Taurus-Gemini cusp can easily see themselves more as a force than as a person. Not specialists in self-awareness, from an early age they forge a role in life that is active rather than passive, dynamic rather than static. Interested as children in everything around them, those born on the Cusp of Energy often fly every which way in their search for stimulation. Sometimes to the despair of their parents, who correctly accuse them of spreading themselves too thin and not sticking to any one activity, they want to do it all, to take on the world in a direct frontal assault. Some of those born on the cusp fail to form a strong ego early in life. Wanting to please, and fearful of rejection, Taurus-Gemini's may accept the wishes of others at the expense of their own. Self-assertion and building a powerful ego can become a lifelong occupation for them.
Strengths:

VERSATILE - ACTIVE -
BRILLIANT
Weaknesses:

GARRULOUS - COMPULSIVE - HASTY
TAURUS-GEMINI CUSP NOTABLE
Bob Dylan
is an American poetic songwriter, singer, painter, writer, and Nobel prize laureate. He has been influential in popular music and culture for more than five decades.
May 24, 1941 Duluth, MN.
TAURUS-GEMINI CUSP NOTABLES

:
Ho Chi Minh
,
Gary Burghoff (Cpl Radar), Malcolm X, Cher,

Bob Dylan

, .
Source:
The Secret Language of Relationships
Gary Goldschneider & Joost Elffers.
ADVICE

:

Monitor the pace of your activities carefully. Seek to be more consistent and less casual in jettisoning people and ideas. Don't come on so strong. Turn off your mental motor from time to time. Confront your fears and insecurities.