Pearl
Zane Grey
was an American

author best known for his popular adventure novels and stories that were a basis for the

Western
genre in literature and the arts; he idealized the
American frontier.
Riders of the Purple Sage (1912) was his best-selling book. In addition to the commercial success of his printed works, they had second lives and continuing influence when adapted as films and television productions. As of 2012, 112 films, two television episodes, and a television series,
Dick Powell's Zane Grey Theater
, had been made that were based loosely on Grey's novels and short stories.
January 31, 1872
Zanesville, OH.
January THIRTY-FIRST the Day of POETIC SONG

: Those born on January 31 are individuals who wish to be heard. They also like to be seen and can become unhappy if kept out of the spotlight for too long. Indeed being appreciated and understood by even a small group of friends, is of great importance to their confidence and self-esteem. January 31 people are social and can become depressed if they are forced to hide themselves away. But, if they have been emotionally hurt or had their self-image damaged, they can go through very difficult times which demand isolation. fortunately, they recover fairly quickly, to once again share their bubbling personality with the world.
Because of the more entertaining aspects of their nature, some January 31 people can find that they are taken less than seriously when they are clearly in earnest. Those born on this day often wish to be valued not only for their surface attributes, but also for the meaning of what they have to say. Many have a secret wish to be considered profound, but nonetheless remain for others a lyric song to be dreamed on or a lovely flower that can be openly admired. Some January 31 people may try desperately to change their image - being alternately tough, critical, witty or philosophical - and yet nothing works. They may even go as far as to be insulting, yet others will continue to like them, find excuses for their actions and, yes, fail to see the profound in them.
STRENGTHS:

Attractive, Admired, Appreciated
WEAKNESSES:

Dependent, Misunderstood, Depressive
ADVICE

:

Insist that others treat you as you wish. Let your real self shine through. Cultivate true friendships and rid yourself of all false admirers. Find others with whom you can share real concerns.
BORN ON THIS DAY
: Queen Beatrix of the Netherlands,
Justin Timberlake
,
Jean Simmons (film actress), Eddie Cantor (
vaudeville
, radio, movie star), Jersey Joe Walcott (world heavyweight boxing champion), John O'Hara (novelist, Pal Joey), Carol Cive hundred songs, nine symphonies, died at age thirty-one),

Carol Channing

(
comedienne
),
Zane Grey
(Western novelist Wyoming)

, Tallulah Bankhead (stage, film actress), Norman Mailer (novelist, The Naked and the Dead),

Ernie Banks

, Franz Peter Schubert (Austrian master composer, wrote over five hundred songs, nine symphonies, died at age thirty-one),

Norman Mailer

, Mario Lanza (popular opera tenor),

Jackie Robinson

(first African-American major league baseball player),

Nolan Ryan

(baseball pitcher, all time strike-out record, pitched seven no-hitters, last one at age forty-four);
Source:
The Secret Language of Birthdays
,
Gary Goldschneider & Joost Elffers.
MEDITATION:

The beauty in a song resides not only in the melody but in the meaning of the words as well

.
Clubs - Mind - Communication – Intelligence
9 of Clubs - Mental Control
Karma for the 9 of Clubs - Mental Weakness
NINE
of Clubs
:
The Card of UNIVERSAL KNOWLEDGE & The GIVER of KNOWLEDGE
: Though this is a card of expanded consciousness, it is also a card of negative thinking. These people must let go of many negative mental patterns accumulated from past lives if they are to access the inherent power in this card. There are many who do and who have reached the very heights of recognition. This is a card of sexual enjoyment and pleasure seeking. If this is allowed to dominate, much time and energy is wasted that would otherwise elevate them to great accomplishment. The Nine of Clubs is here to end a major cycle in their soul's development, a completion that should see them giving their wealth of knowledge to the world. There are some debts to be paid, especially to the Six of Diamonds and Queen of Hearts, but once these debts are paid, they can proceed with their cosmic task of enlightening the world. Financially they are always assisted by diamond men and they do well in their own business if they don't let it spoil their spiritual values. They cannot be totally materialistic or mercenary.
Your

Karma Cards

are the:
Queen of Hearts
- You owe something to this person and they reflect you in some way.
Six of Diamonds
- This person owes you and you are their mirror in some way.
NINE
of Clubs
BIRTHDAYS:
January 31 (Aquarius II
)
, February 29 (Pisces), March 27 (Aries), April 25 (Taurus), May 23 (Gemini), June 21 (Gemini/Cancer), July 19 (Cancer), August 17 (Leo), September 15 (Virgo), October 13 (Libra), November 11 (Scorpio), December 9 (Sagittarius);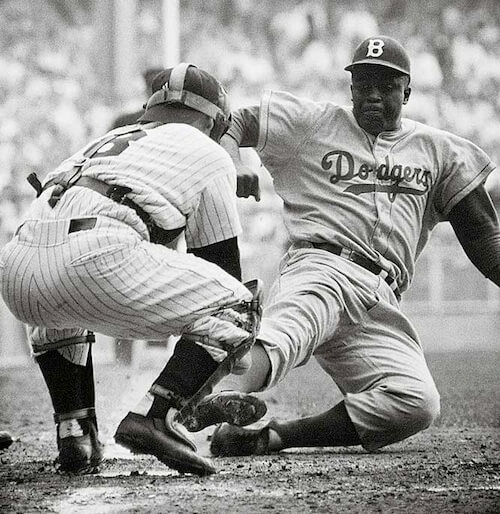 FAMOUS NINE of Clubs
Jack Roosevelt
"Jackie" Robinson
was an American Major League Baseball second baseman who became the first African American to play in the major leagues in the modern era.

January 31, 1919, Cairo, GA.
FAMOUS
NINE
of Clubs

:

Justin Timerlake,
Nolan Ryan,
Minnie Driver, Kelly Lynch,

Stavy "Fergie" Ferguson

, Mariah Carey, Quentin Tarantino, Renee Zellweger,

Al Pacino

, Joan Collins, Prince William, and Prince Harry,

Sean Penn

,

Robert DeNiro

, Oliver Stone, Zane Grey, Kelly Preston, Jackie Robinson, Ashanti,

Margaret Thatcher

, Leonardo DiCaprio, Demi Moore;
Source:
Robert Camp's Love Cards.
NINE of Clubs (Wands) in Tarot
NINE of Clubs: As a rule, these people have warm and friendly personalities, a keen sense of obligation, and they keep promises and their pay debts. The 9 of Clubs is the "Adventurer's Card". They like to gamble and are always willing to take a chance for the satisfaction of curiosity or interest. When their adventurous spirit extends to the field of knowledge, they often become extremists capable of making some fantastic discovery that will benefit others on an international scale. The first 13 years of life are usually the most difficult of their lifetime. Many harsh lessons are learned through the actions of a domineering and sometimes violent father. However, these early difficulties tend to disappear when they are in their late teens or early 20's - or - as soon as they are able to lay aside their self-protective negativity, and embrace a more universal approach to life. http://www.metasymbology.com/
AQUARIUS II: The Week of YOUTH and EASE January 31-February 7
: "No hassles" could be the motto of most AQUARIUS II's. Listening to those born in this week, one would gather that they do not like trouble in any
form
and would do practically anything to avoid it. They value their happiness highly, both in the long term and in the short. AQUARIUS II's generally ask to be left alone to travel their own path with as little interference as possible. Not much interested in controlling others or meddling in
their
affairs, those born in this week are happy to accord the same treatment to other people that they demand for themselves.
AQUARIUS II NOTABLE
James Albert Michener
was an American author of more than 40 books, the majority of which were fictional, lengthy family sagas covering the lives of many generations in particular geographic locales and incorporating solid history. February 3, 1907, Doylestown, PA.
AQUARIUS II

NOTABLES:

Charles Dickens

,
Ernie Banks,
Babe Ruth, Jackie Robinson, Adlai Stevenson,
James Michener,
Clark Gable
, Nolan Ryan, James Joyce, An Wang, Mary Leakey, Phil Collins, John Ford, Ida Lupino, Gertrude Stein.
Source:
The Secret Language of Relationships
,

Gary Goldschneider & Joost Elffers.
Strengths:

ACCOMPLISHED - ADMIRED - REFINED
Weaknesses:

IMMATURE - TORTURED - CUT OFF
ADVICE

:

Try to get in touch with your own deeper feelings. Sometimes it is better to meet problems head on. A bit of pain now may prevent much more latter. Don't be too dependent on others' opinion of you. Have the courage to be yourself and don't feel you have to please or entertain.
Karma for the 9 of Clubs -
Mental Weakness