Wesley Branch Rickey was an innovative Major League Baseball executive elected to the Baseball Hall of Fame in 1967. He was perhaps best known for breaking Major League Baseball's color barrier by signing African American player Jackie Robinson and for drafting the first Afro-Hispanic superstar, Roberto Clemente, December 20, 1881, Portsmouth, OH
December TWENTIETH the Day of the GENERATOR:

Those individuals born on December 20 do a great deal to generate thoughts, emotions and heightened activity around them. Their desire to initiate is great. Not overly concerned with maintenance or administration, they prefer to move on to their next task after they set things in motion. However, there is a continuity to their work and thus they can build up an established reputation over time. For December 20 people, the impulse to do something and the deed itself can happen in rapid succession. December 20 people are usually drawn toward metaphysical types of experiences.
STRENGTHS:

Quick, Impulsive, Productive
WEAKNESSES:

Hasty, All-Knowing, Combative
ADVICE

:

Don't always think you know where it's at. Learn to admit your mistakes. Stick to what you're doing and don't move on so fast. Cultivate humility.
BORN ON THIS DAY

: Sidney Hook, Bob Hayes, Robert Van der graaf, Uri Geller,

Branch Rickey

, Max Lerner, Kiefer Sutherland, Irene Dunne;
Source:
The Secret Language of Birthdays

,
Gary Goldschneider & Joost Elffers.
MEDITATION:

Always leave a window open for the spirit to come in.
Hearts -
Emotions - Relationships – Love
Jack of Hearts -
Examples in Love
Karma -
Impersonality of Self
JACK
of Hearts: The Card of SACRIFICE through LOVE:
As one of the three fixed cards, the Jack of Hearts feels strongly about their version of love. They are surrounded by the Christ spirit of sacrifice through love. Even though they are a Jack, which are sometimes immature and crafty, they are influenced by the wisdom of the Christ spirit, which gives them higher guidance and higher motives in general. They must watch, however, that their martyrdom does not get out of hand. They can also become escapists and misguided, but this is the exception. Love is their power and birthright. They have come to love others and to show them the way by their example. They often make sacrifices in their life and their personal fulfillment may be given up for some higher cause or philosophy. As born leaders, they must be successful in their own profession. They all carry the spirit of higher love within them and all people they associate with are in some way uplifted by their presence. They find their greatest fulfillment on a spiritual path.
Your Karma Cards are the:
King of Spades
and
Eight of Clubs
- These two are your strongest karmic 'buddies'. When you meet one of these, there is a powerful energy between you.
Ace of Clubs, Two of Hearts, Nine of Hearts, Seven of Diamonds
- You also share karmic bonds with these cards, but not as strong as the first two. You will often find people of these cards in your life.
JACK
of Hearts
BIRTHDAYS:
July 30 (Leo), August 28 (Virgo), September 26 (Libra), October 24 (Libra / Scorpio), November 22 (Scorpio), and

December 20 (Sagittarius)

;
FAMOUS
JACK of Hearts
Uri Geller
is an Israeli illusionist, well known internationally as a magician, television personality, and self-proclaimed psychic. He is known for his trademark television performances of spoon bending and other supposed psychic effects. December 20, 1946 (age 69), Tel Aviv, Israel.
FAMOUS
JACK
of Hearts

:
Hilary Swank,
Arnold Schwarzenegger
,
Lisa Undertow,
Henry Ford
, Emily Browne, Buddy Guy,
Jack Black
, Shania Twain,
Leo Tolstoy
, T.S.Elliot, Serena Williams, Kevin Kline, Scarlet Johansson, Mariel Hemingway, Jamie Lee Curtis, Rodney Danger field,
Uri Geller
, Harvey Firestone;
Source:
Robert Camp's

Love Cards
www.7thunders.com
The

Jack of Hearts

is placed at the very center of all the spreads, the lines of which from a cross. This is why it's called the "Christ Card". Up until age 18, there are many sacrifices demanded of Jacks of Heart. Sacrifices in love, health, education, or in their own personal, cherished objectives. The hardest lesson for all Jack of Heart is impersonality, and there is a tendency to develop some kind of martyr complex early in their youth. Jack of Hearts are essentially teachers. Their power is found within the Law of Love and their commission is to preach its gospel. To do this effectively, they must live it, and the path they have to follow is definitely not made for easy going! There are the negatives among these birth dates; escapists who contribute nothing except the problem of themselves - but as a rule, the Jacks of Heart are kind, friendly and cooperative. They never bare grudges, and they will never leave you worse off than when they found you!

http://www.metasymbology.com/
SAGITTARIUS-CAPRICORN CUSP - The Cusp of PROPHECY December 19 - 25
: The fiery and earthy natures of Sagittarius-Capricorns speak of highly developed faculties of intuition and sensation respectively, but do not necessarily point to either a strong mental or a strong emotional orientation. Those born on this cusp are consequently at their best when trusting their hunches and their five senses, particularly sight and hearing. Their articulation and expression of their thoughts and feelings may be more problematical. Ultimately, the development of extrasensory abilities, or even a single sixth sense, is often the most unique and remarkable quality that those born on the Cusp of Prophecy can offer to the world. Whether happy, seductive, threatening or punishing, Sagittarius-Capricorns make their moods known very unambiguously, leaving little if any doubt about how they feel. They do not expect to be liked by other people, although it often happens that they are. Being independent of the approval of others gives Sagittarius-Capricorns a power and freedom that many lack. The deep, passionate natures and highly sexual orientation of those on this cusp can bind others to them magnetically.
STRENGTHS:

Psychic, Inscrutable, Intense
WEAKNESSES:

Frustrated, Antisocial, Oppressive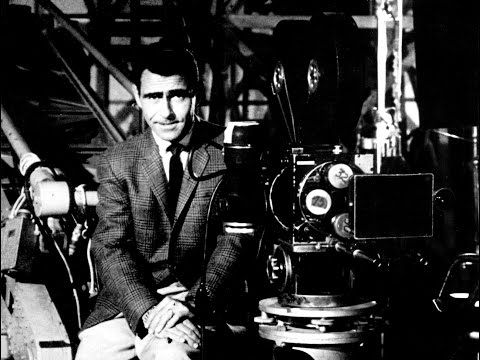 SAGITTARIUS-CAPRICORN CUSP
NOTABLE
Rodman Edward
"Rod" Serling
was an American screenwriter, playwright, television producer, and narrator known for his live television dramas of the 1950s and his science-fiction anthology TV series, The Twilight Zone. December 25, 1924, Syracuse, NY.
SAGITTARIUS-CAPRICORN CUSP
NOTABLES

: Edith Piaf,
Anwar Sadat,
Florence Griffith-Joyner, Uri Geller, Joseph Stalin, Sissy Spacek, Jane Fonda, Ava Garner,
Rod Sterling
, Kiefer Sutherland, Frank Zappa, Howard Hughes,
Richard Leakey
, Diane Sawyer, Lady Bird Johnson.
Source:
The Secret Language of Relationships

,
Gary Goldschneider & Joost Elffers.
ADVICE

:

Learn to temper your intensity. By understanding yourself better; you will be less at the mercy of your moods. Work on improving social relationships and continue to befriend others. Beware of any tendencies to close yourself off. Allow your warm and loving side full rein and keep your heart open.