Bruce Lee
was a Hong Kong American martial artist, Hong Kong action film actor, martial arts instructor, filmmaker, and the founder of Jeet Kune Do. Lee was the son of Cantonese opera star Lee Hoi-Chuen.

November 27, 1940, Chinatown, San Francisco, CA
November TWENTY-SEVENTH the Day of ELECTRIFYING EXCITEMENT

: Those born on November 27 either generate excitement or are drawn to exciting situations or both. They are quick on their feet and an electric quality seems to permeate their endeavors. Those born on this day can be extremely impulsive and rarely stop to ask themselves if they are headed on the correct course. Often their intuitions are correct, but they can also get themselves into plenty of hot water, fast.
Strengths:

Quick, Intuitive, Impulsive
Weaknesses:

Rash, Rebellious, Frustrated
ADVICE

:

Control the hurricane inside you and guide its power constructively. Try to understand yourself a bit better. Don't be afraid to ask for help or forgiveness.
BORN ON THIS DAY

:
Caroline Kennedy
(JFK's daughter).
Vito Genovese,
Jimi Hendrix (60's icon, died at 28 drug overdose),

Bruce Lee

(Chinese-American kung-fu actor, mysterious death at age thirty-two),
Steve Bannon,
Alexander Dubchek (Czech president, reformer),
Anders Celsius,
Benigno Aquino (Phillipine political activist, assassinated upon return from exile),
Source:
The Secret Language of Birthdays
Gary Goldschneider & Joost Elffers.
MEDITATION:

A well-trained horse is not necessarily less exciting than a wild one.
Hearts
- Emotions - Relationships – Love
6 of Hearts -
Sacrifice for Love
Karma for the 6 of Hearts -
Humility
SIX
of Hearts: The PEACE MAKER's Card
: This is a card of harmony and stability in love and family. The Six of Hearts person is aware of the "law of love" and apply themselves to maintain stability in relationships. This stability can make for a satisfying life or one of monotony and boredom. It all depends upon how it is handled by the individual. They are somewhat fixed and dislike changes. Sometimes this can keep them in a relationship longer than necessary as they sort out their intentions and motives. They are usually successful and can apply their great mental power to most any area with success, in spite of occasional fears about not having enough. They are here to settle karmic love debts, to forgive and forget and they can rise to the heights of spiritual awareness by their actions. They never get away with injuries to others and are well aware of that. As the card for Christmas, their lives are intended to be that of plenty and giving. It is here that they find happiness.
Your Karma Cards

are the:
FOUR of Clubs
- You owe something to this person and they reflect you in some way.
THREE of Diamonds
- This person owes You and you are their mirror in some way.
SIX
of Hearts
BIRTHDAYS
: October 29 (Scorpio,)
November 27 (Sagittarius)
,
December 25 (Capricorn);
FAMOUS
SIX
of Hearts
Clarissa
"Clara" Barton
was a pioneering nurse who founded the
American Red Cross
. She worked as a hospital nurse in the American Civil War, and as a teacher and patent clerk. December 25, 1821, Oxford, MA.
FAMOUS
SIX
of Hearts:
Humphrey Bogart
,
Winona Ryder, Richard Dreyfuss, Kate Jackson, Carolyn Kennedy, Jaleel White, Ellen Johnson-Sirleaf, Bill Mauldin, Jimi Hendrix, Bruce Lee, Sir Isaac Newton, Conrad Hilton, Clara Barton, Sissy Spacek, Annie Lennox, Carlos Castaneda, Cab Calloway, ;
Source:
Robert Camp's
Love Cards
www.7thunders.com
SIX of Hearts (Cups) in Tarot
SIX of Hearts

: This is the Christmas Card. The Six of Hearts people like to live well, enjoy managing big business, and sharing their wealth with others. The 6 of Hearts are known as the bearers of gifts. They are frequently found working in some charitable or institutional work where their services are contributed, or their salaries negligible. The Six of Hearts are known for their stability and they are very dependable, affectionate, and emotional - though seldom swept off their feet! Home is important, and once they have established their surroundings, they want to keep things as they are. Delightful people to know, they do however, have a tendency to try and run other people's lives - for their own good, of course! This makes them great managers, but should perhaps wait and see if their management is actually needed, or wanted, or not.
http://www.metasymbology.com/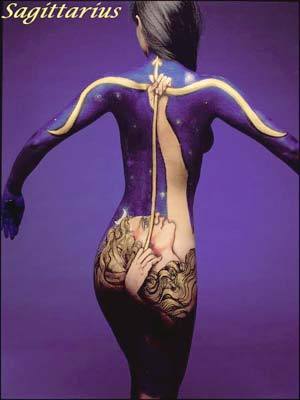 SAGITTARIUS I - The Week of INDEPENDENCE November 25-December 2

: Sagittarius I's are hard to control. In many ways the most independent people of the year, those born in this week must feel free to act on their impulses and intuition. People who try to exercise power over them in personal relationships are in for a rough ride. When Sagittarius I's respect their spouse or living partner, they will cooperate, sharing their feelings and dividing the chores. When they feel that their respect has not been earned, though, or when it is lost, expect constant conflict and strife. Honor and trust are high on the Sagittarius I list of priorities; without these, they feel, life ceases to have meaning and reverts to the law of the jungle.
Strengths:

HONORABLE-INTUITIVE-RESPONSIBLE
Weaknesses:

OVER COMPETITIVE-IMPULSIVE-TEMPERAMENTAL
Advice

:

Strive to keep your emotions on an even keel. Beware of allowing yourself an overly high-minded attitude. Keep control over your expectations and try to be more forgiving. There is nothing wrong with compromise, or with occasionally losing. Watch your tendency to exaggerate.
SAGITTARIUS I
NOTABLE
Samuel Langhorne Clemens
, better known by his pen name
Mark Twain
,
was an American author and humorist. He wrote The Adventures of Tom Sawyer and its sequel, Adventures of Huckleberry Finn, the latter often called "the Great American Novel". November 30, 1835, Florida, MO
SAGITTARIUS I
NOTABLES

: Bette Midler, Woody Allen,
Steve Bannon
,
Tina Turner, Winston Churchill,

Mark Twain,

Maria Callas, Richard Pryor, Jimi Hendrix, Bruce Lee, Joe DiMaggio, Jacques Chirac, Adam Clayton Powell, Dick Clark, C.S.Lewis, John F. Kennedy, Caroline Kennedy, Charles Ringling.
Source:
The Secret Language of Relationships
Gary Goldschneider & Joost Elffers.
Karma for the 6 of Hearts -
Humility