Erwin Rommel, popularly known as the Desert Fox, was a German field marshal of World War II. He earned the respect of both his own troops and his enemies. November 15, 1891, Heidenheim-an-der-Brenz, Germany.
November FIFTEENTH the Day of ENCOUNTER

: Those born on November 15 repeatedly face challenging life experiences and intense encounters with people, often people they have never met before. Being prepared is thus a big item for those born on this day, whether it be a general readiness for unforeseen circumstances or a conscious planning for scheduled events.
ADVICE

:

Psychological training is important for you. Reorient your aggressive impulses or fears. Try not to become threatened so easily. Be more self-assured. Gentleness and kindness may be indications of strength.
Strengths:

MEASURED-JUST-COURAGEOUS
Weaknesses:

VOLATILE-ACCIDENT-PRONE
Born On This Day
:
Sam Waterston
,
Irwin Rommel ("Desert Fox"), Averill Harriman, Howard Baker, Veronica Lake, Curtis Le May, Georgia O'Keefe, Judge Wapner, Ed Asner, Petula Clark;
Source:
The Secret Language of Birthdays
Gary Goldschneider & Joost Elffers.
MEDITATION:

Non-movement can be the most challenging stance.
Clubs -

Mind - Communication – Intelligence
5 of Clubs -

Changes in Mental Attitude
Karma for the 5 of Clubs –
Skepticism
FIVE
of Clubs: The MENTALLY and EMOTIONALLY RESTLESS Card
: Five of Clubs means changes and restlessness of the mind and we find these people to have a lot of curiosity and restlessness in their lives. Their Five of Hearts Karma Card tells us that they also have many changes in their romantic life as well and for this reason they are not usually well suited for marriage. They have the Ace of Spades in Venus and that speaks of secret love affairs and indecision about which to choose. Their Seven of Diamonds in Jupiter is a millionaire's card and many of them have lots of money, though they often spend it as fast as they get it. Speculation & gambling should be avoided. Their natural curiosity brings them much knowledge, but they often do not apply it or stick to one train of thought. This tends to make them skeptics, not even getting satisfaction from their own self- created belief structures. An interest in spiritual studies brings more satisfaction in their later years and provides answers that bring more peace to their lives. A spiritual teacher is helpful in this regard.
Your Karma Cards are the:
Five of Hearts
- You owe something to this person and they reflect you in some way.
Four of Clubs
- This person owes you and you are their mirror in some way.
FIVE

of Clubs BIRTHDAYS:
March 31 (Aries, April 29 (Taurus), May 27 (Gemini), June 25 (Cancer), July 23 (Cancer/ Leo), August 21 (Leo), September 19 (Virgo), October 17 (Libra),
November 15 (Scorpio)
, December 13 (Sagittarius);


FAMOUS FIVE of Clubs
James Butler Hickok
—known as
"Wild Bill" Hickok
—was a folk character of the American Old West. Some of his exploits as reported at the time were fiction but his skill as a gunfighter and gambler ...
May 27, 1837, Troy Grove, IL.
FAMOUS FIVE

of Clubs:
D

eng Xiaoping,

Ed Asner

,

Wild Bill Hickok

(Dead Man's Hand),

Gordie Howe, Al Gore, Andre Agassi, Uma Thurman, Michelle Pfeiffer, Daniel Day-Lewis, William Randolph Hearst, Henry Kissinger, Monica Lewinsky, Kim Cattrall, Jim Abbott, Eminem,

Evel Knieval

, Archie Moore, Jamie Foxx;

Source: Robert Camp's

Love Cards

www.7thunders.com
FIVE of Clubs (Wands) in Tarot
FIVE of Clubs

: Versatile, restless, inquiring, and forever seeking with an ever changing mind; the 5 of Clubs is a young soul who is never satisfied with the answers they find. They need constant movement and wide travel -- eager to go anywhere rather than remain where they are. The positive natives of this card fight against their inherent restlessness, which otherwise lures them away from building a solid base. Those 5 of Clubs will then choose to educate themselves in some specialty that interests them, and will pursue it to a successful outcome. Marriage is never easy for the 5 of Clubs as they are prone to jealousy and suspicion. They also experience changes in their mental attitudes towards their partner and cause the marriage to falter. The Five of Clubs must have an outlet for their natural keenness. Education is of supreme importance if they are to succeed in life. And peace of mind comes from a willingness to accept their life as it must be lived -- constructively!
http://www.metasymbology.com/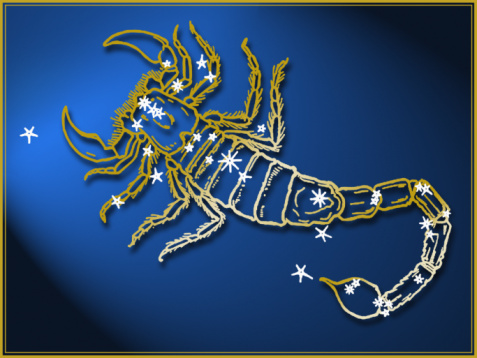 SCORPIO III - The Week of CHARM November 12-18

: Realists first and foremost, Scorpio III's rarely over-reach themselves. Because they have a realistic view not only of their own capabilities but of others' as well, their judgment is generally trustworthy and their assessments keen. Those born in this week do well in administrative positions or as leaders of a social group or working team, roles in which their evaluative, organizational and practical abilities can come to the fore.
Strengths:

TOGETHER - CHARMING - RESOURCEFUL
Weaknesses:

DEFENSIVE - COMPLACENT - CONTROLLING
ADVICE

:

Keep a critical eye on yourself. Respond to the highest challenges and occasionally take meaningful risks. Be mindful of what is important in life, of what endures and has lasting value. Always aim high, and don't be afraid of failure.
SCORPIO III
NOTABLE
Charles Manson
is an American criminal who led what became known as the Manson Family, a quasi-commune that arose in the California desert in the late 1960s.
Born to an unmarried 16-year-old named Kathleen Maddox (1918–1973),
in the
General Hospital, in
Cincinnati, OH.
November 12, 1934 (age 81).
SCORPIO III
NOTABLES

: Prince Charles,
Claude Monet
,
Grace Kelly, Whoopi Goldberg, Nehru, Sun Yat-Sen, Rodin, Robert Louis Stevenson, Demi Moore,

Charles Manson

, Georgia O'Keeffe, Danny De Vito, Veronica Lake, Alan Shepard, Erwin Rommel, Joseph McCarthy, Linda Evans, Aaron Copland.
Source:
The Secret Language of Relationships
Gary Goldschneider & Joost Elffers.
Karma for the 5 of Clubs –
Skepticism