Sun Yat-sen
was a Chinese revolutionary, founder of modern China,
Born:
November 12, 1866, Zhongshan, China
November TWELFTH the Day of SENSUAL CHARISMA

: Sensuality and magnetic attraction are central themes in the lives of November 12 people: sensuality expressed in their own physical makeup or the works they are involved in producing magnetism in family life, secret love relationships, or in their career or social circle. The creation or appreciation of beauty in all its forms is the overriding interest of November 12 people, either it be found in beautiful children, art, home environment, bodily form or just an outright sensuality.
Strengths:
MAGNETIC - SEDUCTIVE - ATTRACTIVE
Weaknesses:
HEAVY - TROUBLED
Born On This Day:

Sun Yat Sen

, Auguste Rodin,
Charles Manson
,
Grace Kelly, Kim Hunter, Neil Young, Nadia Comaneci, Tonya Harding,
Anne Hathaway,
Harry Blackmun (US Supreme Court Justice).
Source:
The Secret Language of Birthdays
Gary Goldschneider & Joost Elffers.
ADVICE:
Concentrate on strengthening your personal morality. Cultivate the simple values of kindness and consideration toward others. Resolve your inner struggles. Use self-knowledge to buttress your will.
MEDITATION:

The thirst for knowledge, like that for water, must be slaked.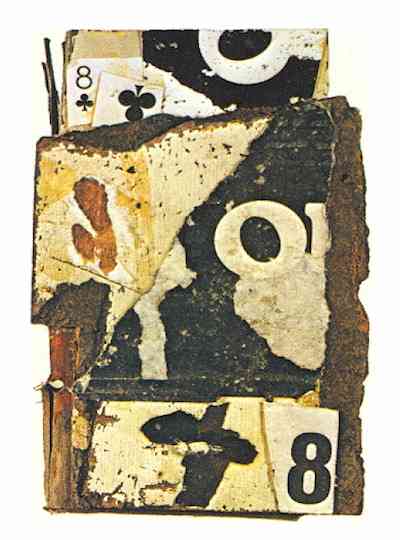 Clubs - Mind - Communication - Intelligence
8 of Clubs
- Power of the Mind
Karma for the 8 of Clubs
- Fear of Domination
EIGHT
of Clubs: The Card of MENTAL POWER
The Eight of Clubs is one of the three, "fixed" cards. With their strong mental power, they are not easily swayed by others' views and opinions. Many successful attorneys, chemical engineers and rocket scientists are Eight of Clubs, however their power can be applied to any of the mental fields with great success. Their life path is one of the most successful in the deck. They can have almost anything they set their mind to achieving and most attain wealth and prominence but they must make sure their life is kept in balance as mental peace is essential. They have much psychic power and can be great healers. All of their gifts can be applied to attain great success and they only need to become aware of their true goals to have a life of success and accomplishment. However, being so fixed has its own drawbacks, mainly that it is difficult for them to deal with changes. Working with a Jack of Hearts or King of Spades will bring far reaching success. For best results, they should let their work come before their personal lives and keep them separate.
Your Karma Cards are the

:
Jack of Hearts,
King of Spades
- These two cards are your main Karma Cards. You have the strongest connections with them.
EIGHT
of Clubs BIRTHDAYS
: March 28 (Aries) April 26 (Taurus) May 24 (Gemini) June 22 (Gemini or Cancer) July 20 (Cancer) August 18 (Leo) September 16 (Virgo) October 14 (Libra)
November 12 (Scorpio)
December 10 (Sagittarius);
FAMOUS EIGHT
of Clubs

:
Neil Young
,
Vince Vaughen, Jet Li, Carol Burnett, Priscilla Presley, Bob Dylan, Tommy Chong, Cyndi Lauper, Meryl Streep, Lindsay Wagner, Ed Bradley, Billy Wilder, John Dillinger, Natalie Wood, Gisele Bundchen, Patrick Swayze, Roman Polanski, Nick Jonas, David Copperfield, Usher, Roger Moore,
Ryan Gosling, Susan Dey, Emily Dickinson; Source:
Robert Camp's Love Cards
www.7thunders.com
EIGHT of Clubs (Wands) in Tarot
EIGHT of Clubs
: When the 8 of Clubs are able to clarify their objectives, they always go straight towards them and attain them. It's getting to that point of clarity, which can be a problem. Through the "power of knowledge" - the natural heritage of the 8 of Clubs - they can overcome all obstacles and attain any desire. In many ways, Eight of Clubs people are like cats that always land on their feet. Protection surrounds them in all departments of life and yet it is this very blessing that is also their biggest bugaboo. Eight of Clubs must strive for mental balance and compassion. They have very strong emotions and fixed ideas that can become overpowering. Especially when they try to dominate the lives of those they love.
SCORPIO III - The Week of CHARM November 12-18
: Realists first and foremost, Scorpio III's rarely over-reach themselves. Because they have a realistic view not only of their own capabilities but of others' as well, their judgment is generally trustworthy and their assessments keen. Those born in this week do well in administrative positions or as leaders of a social group or working team, roles in which their evaluative, organizational and practical abilities can come to the fore.
Strengths:

TOGETHER - CHARMING - RESOURCEFUL
Weaknesses:

DEFENSIVE - COMPLACENT - CONTROLLING
ADVICE

:

Keep a critical eye on yourself. Respond to the highest challenges and occasionally take meaningful risks. Be mindful of what is important in life, of what endures and has lasting value. Always aim high, and don't be afraid of failure.
SCORPIO III
NOTABLES

: Prince Charles, Grace Kelly, Whoopi Goldberg, Claude Monet, Nehru, Sun Yat-Sen, Rodin, Robert Louis Stevenson, Demi Moore, Charles Manson,

Georgia O'Keeffe

, Danny De Vito, Veronica Lake, Alan Shepard, Erwin Rommel, Joseph MCarthy, Linda Evans, Aaron Copland.
Source:
The Secret Language of Relationships
Gary Goldschneider & Joost Elffers.
Karma for the 8 of Clubs
- Fear of Domination