Charles Bronson was an American film and television actor. He starred in films such as Once Upon a Time in the West, The Magnificent Seven, The Dirty Dozen, The Great Escape, Rider on the Rain, The Mechanic, and the Death Wish series. November 3, 1921, Ehrenfeld, PA.
November THIRD: The Day of the LONG BREATH

: Those born on November 3 are fighters with the stamina and endurance to hang in there, no matter what.They are highly competitive, if not contesting others then striving for their own private achievements and goals. The idea of bettering their position or standing occurs naturally to them. Under pressure they are usually cool, although they often reserve an explosive power which others can palpably sense. A certain deadly calm descends on them in trying situations that does not bode well for their opponents. In executing attacks against foes, both men and women born on this day can be quite merciless.
Strengths:

Persistent - Concentrated - Triumphant
Weaknesses:

Suffering - Procrastinating - Depressive
ADVICE

:

Learn how to let go. Suffering and resentment can drop away if you let them. Be more realistic about your enthusiasm. Beware of indolence. Your enjoyment of pleasures may have to be tempered.
BORN ON THIS DAY
: Mutsuhito Meiji Tenno,
Mazie Hirono
, Leopold II, Yitzhak Shamir (Israeli prime minister), Charles Bronson
(
film actor, former coal miner
)
, Rosanne Barr (film TV, nightclub comedienne),
Colin Kaepernick
Larry Holmes (world heavy-weight boxing champion, successfully defended his title twenty times, Bob Feller (baseball pitcher, led in strikeouts 7x, wins 6x, 3 no-hitters, 266 wins, I rode in the elevator with him and my aunt in Cleveland, Ohio), Michael Dukakis (Democratic presidential nominee), Russell Long (Huey Long's son, "I want to be buried in Louisiana, so I can stay active in politics."),

Dennis Miller

(comedian, "it's ok to be shallow as long as you are intuitive.");
Source:
The Secret Language of Birthdays
Gary Goldschneider & Joost Elffers.
MEDITATION:

Losing with grace can be an important win.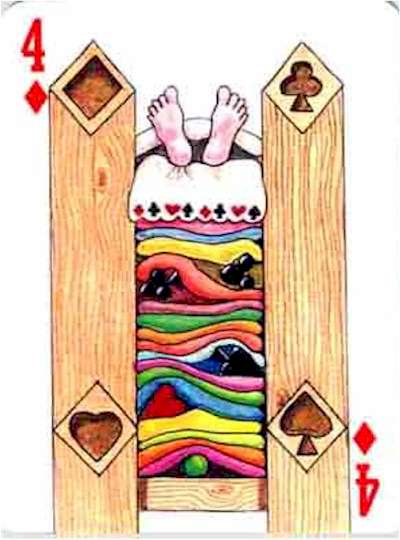 Diamonds -

Values - Security – Dharma
4 of Diamonds -

Concentration on Security
Karma for the 4 of Diamonds -

Overcoming of Self
FOUR
of Diamonds: The Card of SOLID VALUES:
The Four of Diamonds is a card of protection in finances, however that protection is only accessed through hard work. This card, above most others, must put forth the effort to reap the rewards, but the rewards are surely there. To achieve this, they often have to come to terms with their own inner restlessness (Five of Spades Karma Card) and dissatisfaction. They never receive anything without paying some price for it. Often the work they must do involves their marriage or their closest relationships. These people are very sociable, meet many people, and usually have many friends. They have high ideals concerning love and often these ideals can cause confusion in real life romantic situations. There are difficulties to be dealt with in their life and they must watch a tendency to get into a rut and get stuck there. However, all they need to do to have more happiness is to work. Once they get into action, everything smooths out, and their fears are laid to rest.
Your

Karma Cards

are the:
Five of Spades

- You owe something to this person and they reflect you in some way.
Five of Hearts
- This person owes you and you are their mirror in some way.
FOUR
of Diamonds
BIRTHDAYS
: January 23 (Aquarius), February 21 ( Pisces), March 19 (Aries), April 17 (Aries), May 15 (Taurus), June 13 (Gemini), July 11 (Cancer), August 9 (Leo), September 7 (Virgo), October 5 (Libra),
November 3 ( Scorpio)
, December 1 (Sagittarius);
FAMOUS
FOUR
of Diamonds
Colin Rand
Kaepernick
is an American football quarterback who is currently a free agent. Kaepernick played college football at the University of Nevada. Famous for starting the kneeling Anthem protest
:
November 3, 1987 (age 29), Milwaukee, Wisconsin.
FAMOUS
FOUR
of Diamonds:

Princess Caroline of Monaco, Ellen Page, Bruce Willis, Victoria Beckham, Jennifer Garner, Madeleine Albright, Mary-Kate and Ashley Olsen, Raz-B, Leon Spinks, Whitney Houston, Elia Kazan, Nikki Hilton, Roseanne, Woody Allen.
Source:
Robert Camp's Love Cards
www.7thunders.com
FOUR of Diamonds:

The importance of work is stressed for all 4's, and this is especially true of the 4 of Diamonds. There is inherent protection for this card, but only if they are making diligent and concentrated efforts in their lives. When this is lacking, poverty and failure - in varying degrees - are the sure results. A life of leisure is just not part of their life plan. This is by no means an easy card to deal with. They are known to rebel at the restrictions imposed by relationships, work and life circumstances. While they are basically materially oriented people, there is an underlying spiritual interest which should not be neglected! A good earning capacity belongs to this card but it is only through hard work that their dreams become a reality.
http://www.metasymbology.com/
SCORPIO II - The Week of DEPTH November 3-11

: Profundity in all forms is an irresistible attraction to Scorpio II's. Shunning superficiality, those born in the Week of Depth take a measured and serious view of life, both at work and at home. This is not to say that they don't like to have fun - far to the contrary. In pursuing their hobbies, pastimes and lighter activities, however, they show the same full-bodied intensity and concentration that they do in the more purposeful parts of their lives.
Strengths:

SERIOUS-STEADFAST-SEXUAL
Weaknesses:

DEPRESSIVE-WORRYING-ESCAPIST
Advice

:

Let the sun shine in and the light within you shine out. Don't take things so seriously. Work on leveling out your moods and see how much happiness you can bring to yourself and others. Put your singular insight to productive use. Learn to laugh more at the illusions of the world and also at yourself.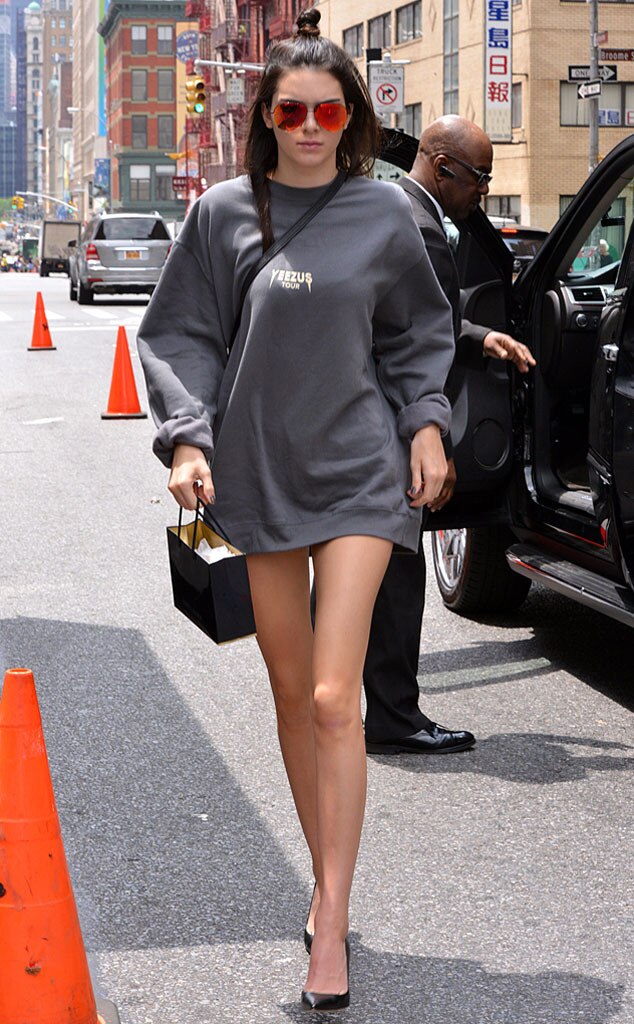 SCORPIO II
NOTABL

E
Kendall Nicole Jenner
is an American fashion model and television personality. Originally known for appearing in the E! reality television show Keeping Up with the Kardashians, Jenner is now also a ...
November 3, 1995 (age 20), Los Angeles, CA.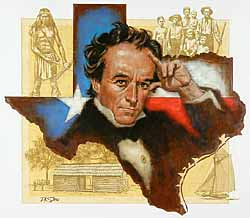 SCORPIO II
NOTABLES
: Marie Curie, Hedy Lamar,
Stephen F. Austin
(Father of Texas), Fyodor Dostoevski, Yanni, Sally Field, Tatum O'Neal, Richard Burton, Roy Rogers, Elke Sommer, Shah of Iran, Mike Nichols, Kendall Jenner, John Philip Sousa, Will Rogers, Roseanne Barr, Art Carney.