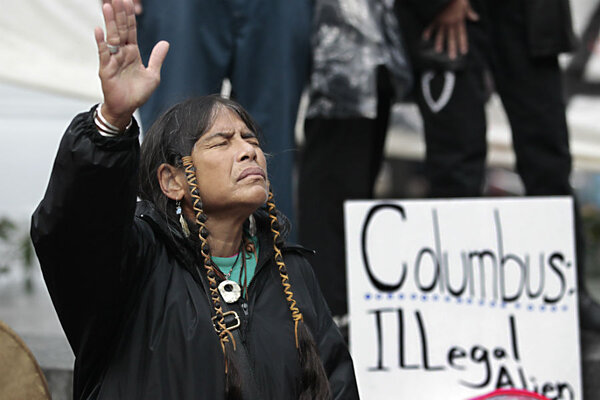 October THIRTY-FIRST - The Day of ATTENTIVENESS

: October 31 people pride themselves on being meticulous observers and executors of detail. Their ability to concentrate all of their energy allows them to cut through obstructions thrown up in their way - this laser-like intensity also makes them formidable adversaries. However, October 31 people are not in general overly aggressive. They can in fact display a sweet and even gentle exterior which belies their harder side. In personal relationships they are caring and protective.
STRENGTHS:

Caring, Observant, Indomitable
WEAKNESSES:

Self-Effacing, Easily Irritated, Resentful
ADVICE

:

Push yourself a little more: achievements are important. You have to drop your guard to let someone in. Doubt less, trust more, and try to be less critical and argumentative. Cultivate diplomacy. Self-assurance is key.
BORN ON THIS DAY

:
Jan Vermeer,
John Keats, Jiang Jieshi
蔣介石
Chiang Kai-Shek, Columbus, Dan Rather, John Candy, Jane Pauley, Ehtel Waters, Michael Landon, Frank Shorter, Dale Evans;
Source:
The Secret Language of Birthdays
Gary Goldschneider & Joost Elffers.
MEDITATION

:

The greatest battles are fought within oneself.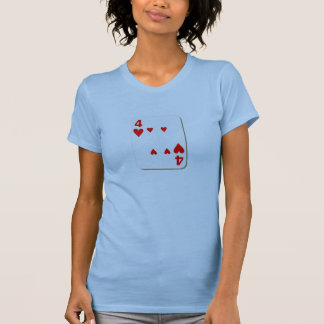 Hearts -

Emotions - Relationships - Love
4 of Hearts -

Protection in Relationships
Karma for the 4 of Hearts -

Self Satisfaction
FOUR
of Hearts: The FAMILY Card:
Here we have the first Four in the deck, the first to seek stability and foundation. The Four of Hearts seeks this in relationships. These people have high ideals about love and family and when these ideals are not reached, the pain can be so great that they need some form of escape to soothe themselves. If their ideals are combined with truth and objectivity, these people can have wonderful lives of fulfillment in family and other love areas. Many are healers and protectors and others come to them for love and support in times of need. They all have a need for self-expression and do well with groups and organizations as teachers and event organizers. Some have great scientific minds as well. They are very good with money and have no one but themselves to blame if their lives are not happy and productive. They must maintain good health habits as this card, more than others, never gets away with indulgence, either physical or emotional. Satisfaction comes in giving.
Your Karma Cards are the:
Four of Spades
- You owe something to this person and they reflect you in some way.
Ten of Spades
- This person owes you and you are their mirror in some way.
FOUR
of Hearts
BIRTHDAYS
:
October 31 (Scorpio)
November 29 (Sagittarius) December 27 (Capricorn)
FAMOUS FOUR
of Hearts
Dale Evans
was an American writer, film star and singer-songwriter. She was the third wife of singing cowboy Roy Rogers. February 7, 2001, Apple Valley, CA.
FAMOUS
FOUR
of Hearts
: Peter Jackson, Larry Mullen, Jr.,
John Candy,
Jane Pauley, Deidre Hall, David Ogden Steirs, Michael Landon, Dan Rathers, Kim Delaney, Jeff Fahey, Howie Mandel, Garry Chandling, Chuck Mangione, C.S. Lewis, Gerard Depardieu,
Dale Evans,
Marlene Dietrich, Cokie Roberts
Source:
Robert Camp's Love Cards
www.7thunders.com
FOUR of Hearts (Cups) in Tarot
FOUR of Hearts

: The majority of people born with this card have a strong sense of fairness, justice, tolerance, and understanding. They make good judges, counselors, leaders, and directors. There is also a strong attraction to the theater - and with even a small amount of talent, a measure of success in this field is assured. The pitfall of this Card is self-satisfaction. The negative 4 of Hearts can become very smug, taking all the credit for their success. When this happens, their success does not last long. Self alone has no power for this Card. The 4 of Hearts should never ask what can this person, this job, or this project do for them, but rather - what can I do for thee! The Four of Hearts have so much to give to the world! And if only they could realize their satisfaction in life is measured by the amount of their giving.

http://www.metasymbology.com/
SCORPIO I - The Week of INTENSITY October 26 - November 2:

Scorpio I's are demanding personalities, who have few equals in attention to detail and applying their powers of concentration to the task at hand. Those born in the Week of Intensity are extremely discriminating, possibly to the point of being judgmental. Particularly in matters of fairness and ethics, they are likely to evaluate people more for their motives than for their actions and sternly pass sentence on those they see as transgressing the bounds of morality. They can be equally strict themselves, however, and are highly prone to guilt over wayward thoughts and deeds. Thus their conscience is always powerfully at work. Getting the job done is important to them, but the way in which it is done has top priority. Even the mildest of those born in this week have more than a touch of the performer in them. Their virtuoso energies are often the outward manifestation of a needy side - a craving for approval and affection from their families and friends.
Strengths:

TRUTHFUL - DISCERNING - SINGLE-MINDED
Weaknesses:

HURTFUL - STERN - SELF-DESTRUCTIVE
SCORPIO I
Notable
Michael Landon
was an American actor, writer, director, and producer. He is known for his roles as Little Joe Cartwright in Bonanza, Charles Ingalls in Little House on the Prairie, and Jonathan Smith in Highway to Heaven. October 31, 1936, Forest Hills, NYC, NY.
SCORPIO I
Notables

: Dylan Thomas, Hillary Rodham Clinton, Erasmus,
Bill Gates,
Francois Mitterrand, Christopher Columbus, Teddy Roosevelt, Daniel Boone,
Michael Landon
, Francis Bacon, Marie Antoinette.
Source:
The Secret Language of Relationships
Gary Goldschneider & Joost Elffers.
ADVICE

:

Supply the same constancy you expect from others, but also be less hard on yourself when it comes to mistakes. If at all possible, try to both forgive and forget. Leave excess baggage behind - the injuries of the past can be to heavy for anyone to bear, even you.
Karma for the 4 of Hearts -
Self Satisfaction