Fess Parker, Jr. was an American film and television actor best known for his portrayals of Davy Crockett in the Walt Disney 1955–1956 TV mini-series and as Daniel Boone in a television series from 1964 to 1970. August 16, 1924, Fort Worth, TX.
August SIXTEENTH the Day of HIGH VOLTAGE:

Those born on August 16 are full-bodied sensualists who know how to get their way. Yet in everything they do, there is a sense of refinement, of style, of highly magnetic attractiveness which endears them to most people who come in contact with them. Even if they appear fresh-faced and wholesome, those born on this day invariably have either a notable interest in and/or drive toward various forms of sensuous as well as sexual expression. The commanding aspects of this personality are marked as well, and because of this, August 16 people can have great difficulty tolerating opposing points of view. Indeed they will seek to triumph over and in extreme cases destroy those whom they see as adversaries or enemies. The drive in them to accumulate power within their sphere of influence is particularly pronounced;
Strengths:

Seductive, Electric, Goal-Oriented
Weaknesses:

Destructive, Rebellious, Excessive
ADVICE

:

Learn to transform your voltage when necessary to run conventional human appliances. Try not to burn them out, for their sake. Be a bit kinder to your enemies - you may need them too. Put a little more energy into your inner spiritual life.
BORN ON THIS DAY
: Yiru Liu, Madonna,
T.E. Lawrence,
George Meany, Frank Gifford, Kathie Lee Gifford, Wilhelm Wundt (empirical psychologist),
J.L.Rodale (organic gardener specialist), Edyie Gorme, Fess Parker
,
Julie Newmar;
Source:
The Secret Language of Birthdays
Gary Goldschneider & Joost Elffers.
;
MEDITATION:

To those sensitive to it, the language of the bedroom rarely tells a lie.
Clubs -

Mind - Communication – Intelligence
10 of Clubs -

Mental Illumination
Karma for the 10 of Clubs -

Vacillation of Values
TEN
of Clubs: The TEACHER Card:
The Ten of Clubs have come full circle in their quest for knowledge. They have a powerful mind and a consuming desire for more knowledge as well. In this life they must learn to regain the control over their mind which has developed somewhat of a life of its own. The best path back to self-mastery is to direct the mind into right motives and higher principles. Their Three of Hearts in Mars makes for emotional restlessness, which can be a strain on relationships. The strong desire for spiritual wisdom and study of spiritual philosophies will bring contact with many uplifting groups and will increase enjoyment of life. The Ten of Clubs have good luck in work and labor relations and could do very well in the real estate business. Their Three of Diamonds Pluto Card signifies that in this life they will be doing much experimenting as they work towards finding out what really satisfies them. They often spend a lot of time deciding what is their life's work. Once they decide, they can rise to the heights. Choosing things that allow for freedom and travel gives them the best results.
Your

Karma Cards

are the:
Jack of Spades

- You owe something to this person and they reflect you in some way.
Four of Spades
- This person owes you and you are their mirror in some way.
TEN
of Clubs
BIRTHDAYS
: January 30 (Aquarius), February 28 (Pisces), March 26 (Aries), April 24 (Taurus), May 22 (Taurus/Gemini), June 20 (Gemini), July 18 (Cancer),
August 16 (Leo)
, September 14 (Virgo), October 12 (Libra), November 10 (Scorpio), December 8 (Sagittarius);
FAMOUS
TEN
of Clubs
Madonna
Louise Ciccone is an American singer, songwriter, dancer, actress, and businesswoman. She achieved popularity by pushing the boundaries of lyrical content in mainstream popular music and imagery ... August 16, 1958 (age 57), Bay City, Michigan.
FAMOUS
TEN
of Clubs:
Julie Newmar
,
D
ick Cheney, Vanessa Redgrave, Gene Hackman, Franklin D. Roosevelt, Bernadette Peters, Mario Andretti, Keira Knightley, Steven Tyler, Barbara Streisand, Shirley MacLaine, Naomi Campbell, Sir Laurence Olivier, Nicole Kidman, Errol Flynn, Van Diesel, Hunter S. Thompson, Steve Carell, Madonna, Kim Basinger, Hugh Jackman, Luciano Pavarotti, Richard Burton, Roy Scheider, Mary Queen of Scots.
Source:
Robert Camp's Love Cards
www.7thunders.com
TEN of Clubs

: The greatest success for the 10 of Clubs lies within the mental realm. This is also considered the Moon Card; known to astrologers as the emotional mind. Mental strength, assuredness, and will power are the trademarks of those born under this high card, as well as blind ego, and cunning. Ten of Clubs people are often suspicious of others, and demand loyalty from friends and family. They are known as task-masters within the family, and feel they are deserving of that title. They are afraid of being judged, and are insecure on a very deep level. All 10 of Clubs like to work, and for those instilled with a good sense of values early in life, success is theirs for the taking.
http://www.metasymbology.com/
LEO III: The Week of LEADERSHIP August 11 - 18

: LEO III's often assume a commanding role in their family and social or work group. They have highly developed instincts to lead, but not necessarily to dominate or rule; it is simply that action comes naturally to these dynamic individuals. They also make good planners, well capable of organizing an effective plan of attack and seeing it through. Building an effective team is essential to their continued success. -
Strengths:

COMMANDING, HEROIC, CREATIVE
Weaknesses:

DICTATORIAL, SELFISH, INSENSITIVE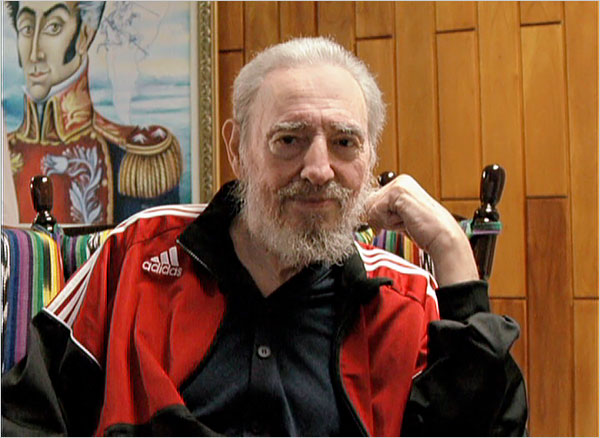 LEO III NOTABLE
Fidel Castro
is a Cuban politician and revolutionary who served as Prime Minister of the Republic of Cuba from 1959 to 1976 and then President from 1976 to 2008. August 13, 1926 (age 89), Biran, Cuba.
LEO III NOTABLES
:
Yiru Liu
,
Sean Penn,
Napoleon Bonaparte, Madonna, Magic Johnson,
Fidel Castro
, Annie Oakley, Shimon Peres, Robert De Niro, Julia Child.
Source:
The Secret Language of Relationships
Gary Goldschneider & Joost Elffers.
ADVICE

:

Try to tone down your demanding and commanding side. Hold the mirror up to yourself as well - examine your motivations carefully. Battle to keep the combatant in you more peaceful. Take some distance from yourself. Admitting weakness can be a sign of strength.
Sharon Stone
The Way of AWARENESS - POWER to DRAMA and CRITICISM:

Born with a powerful nature that needs to assert itself and control most situations, individuals on the Way of Awareness are here to gain insight into how power works and to learn how to use it in the most intelligent manner. Although their need to express power is usually unconscious rather than calculating, this karmic path teaches that the possession of conscious awareness and the insights gained from it are more powerful than all the brute force in the world. Power is only one type of energy in the universe, and the pre-occupation that these individuals have with it can severely limit their life experience. If they can open themselves to the world more fully and with heightened awareness, experiencing its enchantment in their daily lives, they may learn that appreciation of beauty is more valuable than power. By bringing this awareness to those around them, whether by words or example, they will encourage others to raise their own consciousness.
CORE LESSON

: Falling in love with the beauty of life and communicating it to others;
GOAL

: To develop a full consciousness of the world around them:
Gifts:

CHARISMATIC - CREATIVE - PERSUASIVE
Pitfalls:

OVERCRITICAL - ADDICTIVE - MANIPULATIVE

;
Release:

The need to control
Reward:

The joy of enchantment with life
SUGGESTION

:

Open your eyes to all that exists around you. Power is just one form of energy in the universe. Learn to express what you feel. Always reflect on the power of truthfulness.
BALANCE POINT:

Power and Love

;
The Way of AWARENESS
NOTABLES

:

YIRU LIU

, Lord Tennyson, Mario Lanza, Sugar Ray Robinson, Dolley Madison, Lee Harvey Oswald, Grace Slick,

Sharon Stone

, Betty Hutton, Paul Revere, Lloyd Bentsen Jr.
Karma for the 10 of Clubs -
Vacillation of Values