Harriet Tubman. born Araminta Ross was an African-American abolitionist, humanitarian, and during the American Civil War, a Union spy. Born into slavery, Tubman escaped and subsequently made about thirteen missions to rescue approximately seventy enslaved family and friends, using the network of antislavery activists and safe houses known as the Underground Railroad. She later helped John Brown recruit men for his raid on Harper's Ferry, and in the post-war era struggled for women's suffrage. March 10, 1822, Dorchester County, Maryland.
March TENTH The Day of the SOUL SEARCHERS

: Those born on March 10 are deep, emotional individuals. Their drive for success is often rather low-key and they may be more concerned with understanding themselves and coming to grips with their complex personalities than they are with fortune, power or fame.This does not mean to say that March 10 people are overly self-involved or somehow self-indulgent. On the contrary, they love to have fun, particularly in an intimate social setting with close friends, and are most happy when the occupy a central position in their families surrounded by nurturing and protective influences.
STRENGTHS:

Sensitive, Emphatic, Soulfu

l
WEAKNESSES:

Long-Suffering, Withdrawn
ADVICE:
Don't deny your ambition. build a strong ego. Learn to protect yourself from your environment without cutting yourself off; remain open, but attentive. Beware of getting stuck or materially attached.
BORN ON THIS DAY
:
Carrie Underwood,
Alexander III (Russian tsar), James Earl Ray,
Harriet Tubman

(African-American abolitionist)

,
Fou T'song, Chuck Norris, Osama bin Laden.
Source:
The Secret Language of Birthdays
Gary Goldschneider & Joost Elffers.
MEDITATION:

One soul may inhabit many bodies.
Diamonds -

Values - Security – Dharma
King of Diamonds -

Understanding of Values
Karma for the King of Diamonds -

Denial of the Power of Love
K
ING

of Diamonds: The BUSINESS OWNER
: The King of Diamonds is the master of values. In this regard he or she can do very well in any business pursuit, applying the inherited knowledge to their business with much success. These people always do better as heads of their own business. They can be very mercenary when it comes to money and business, but they don't have to be. This is the only "one-eyed" King in the deck which means that they tend to see everything from their own point of view exclusive of others. This can make them very stubborn and one-sided in their view points. However, all of them know what is of real value and if they follow their knowing instead of their fears, they can be the most respectable people in the business world. They must always guard against using their power to get things to go their way. They have good marriage karma in general and usually marry someone who is intelligent and able to contribute to their goals. They are very creative and can make huge amounts of money by using this gift. The King of Diamonds are powerful people who can do much good in the world and can be examples of those who are "in the world but not of it".
Your

Karma Cards

are the:
Three of Clubs
- You owe something to this person and they reflect you in some way.

S
even of Spades
- This person owes something to you and they mirror you in some way.
KING

of Diamonds
BIRTHDAYS:
January 14 (Capricorn) February 12 (Aquarius)
March 10 (Pisces II)
April 8 (Aries) May 6 (Taurus) June 4 (Gemini) July 2 (Cancer);
FAMOUS
KING of Diamonds
:
O
sama
bin Laden
was the founder of al-Qaeda, the organization that claimed responsibility for the September 11 attacks on the United States, along with numerous other mass-casualty attacks worldwide. March 10, 1957, Riyadh, Saudia Arabia.
FAMOUS KING

of Diamonds:

Jason Bateman, LL Cool J, Benedict Arnold, Christina Ricci, Naseem Hamed, Arsenio Hall, Abraham Lincoln, Prince Edward, Sharon Stone,
Osama bin Laden
, Chuck Norris, James Earl Ray, Betty Ford, Mary Pickford, George Clooney, Rudolph Valentino, Sepp Blatter, Angelina Jolie, Lindsay Lohan.
Source:
Robert Camp's

Love Cards
www.7thunders.com

KING of Diamonds:
Positively, the King of Diamonds are endowed with wisdom and power. They may appear cold or hard -- but in truth, they are just and inclined to philanthropy. As a Kings Card, they are born into power and must naturally equip themselves as rulers. If that power means money, then it must be in such abundance that no one can outstrip them or outdo them. But for those King of Diamonds working on the higher plane of values - the hard-boiled materialism of the typical King of Diamonds is unknown to them. These people are willing to take a gambler's chance because they can afford to lose - but seldom do. The women King of Diamonds are very positive but should strive to keep their personalities out of business dealings or they get emotionally disappointed and frustrated. The King of Diamonds are rarely in inferior positions, and they almost always have ample funds at their disposal - or backers who will come to their rescue. Kingpins and top dogs indeed!
http://metasymbology.com/
P
ISCES II - The Week of the LONER March 3-10:
Pisces II's tend to live in a private world of their own. This is true not only internally but outwardly for their homes are often retreats from the world, places to which few are admitted. The healthier Pisces II's can give equal weight to their careers, on the one hand, and to their social and personal lives, on the other; less balanced individuals born in this week may choose to isolate themselves more than is good for them. ADVICE: Try to remain realistic in your outlook. Resist the lure of escapes, in all their varied forms. On the one hand, leave a window open to the world. Continue to strive for trust and acceptance, but remember to stand up for yourself as well. Improving your social position may make certain things easier for you. Your suffering may neither be unique or, for that matter, necessary.
Strengths:

SOULFUL - INTIMATE - GRACEFUL
Weaknesses:

RECLUSIVE - DISAPPOINTED - SUFFERING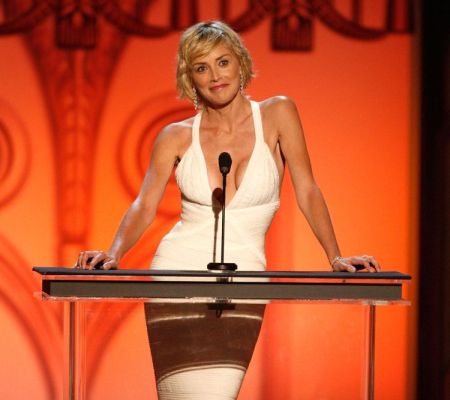 P
ISCES II
NOTABLE
Sharon Yvonne Stone
is an American actress, film producer, and former fashion model. Stone first came to attention for her role opposite Arnold Schwarzenegger in the 1990 sci-fi thriller Total Recall ... March 10, 1958 (age 57), Meadville, PA.
P
ISCES II
NOTABLES

: Alexander Graham Bell,
Chuck Norris
,
Michelangelo, Bobby Fischer,

Sharon Stone

, Harriet Tubman, Oliver Wendell Holmes, Cyrano de Berggerac.
Source:
The Secret Language of Relationships
Gary Goldschneider & Joost Elffers.