Bryan Lee Cranston is an American actor, voice actor, screenwriter, director and producer. Cranston is best known for portraying Walter White in the AMC crime drama series Breaking Bad, Hal in the Fox ... March 7, 1956 (age 59), Canoga Park, LA, CA.
March Seventh the Day of ABSTRACT STRUCTURE:

Those complex individuals born on March 7 often live in a highly abstract world. Giving structure to this world is the great challenge which they take on in life. Those born on this day who are able to find a concrete form of expression for their thoughts can meet with great success.
STRENGTHS:

Conceptual, Sensitive, Giving
WEAKNESSES:

Diffuse, Withdrawn, Lonely
ADV ICE

:

Strengthen your position. Formalize your abstract thoughts and communicate them to others. Don't get mired in self-criticism. Allow others into your private world and give more of your true self.
BORN ON THIS DAY

: Willard Scott,
Franco Harris
,
Tammy Faye, Bryan Cranston,

Luther Burbank

, Kobo Abe, Ivan Lendl, Lord Snowden, Michael Eisner, Anthony Armstrong Jones.
Source:
The Secret Language of Birthdays
Gary Goldschneider & Joost Elffers.
MEDITATION:

Following our dreams can lead us to freedom or imprisonment.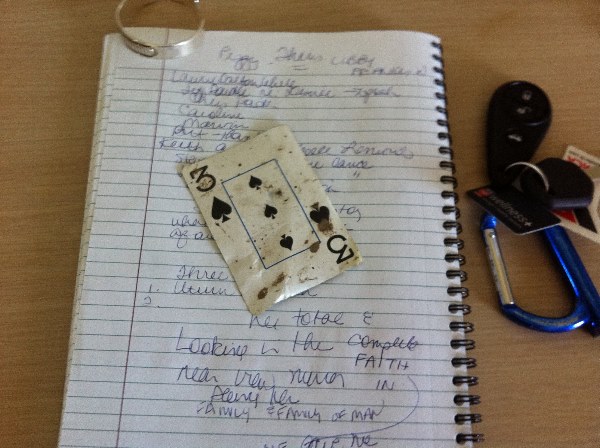 Spades -

Labor - Wisdom – Health
3 of Spades -

Difficulty in Finding Solutions
Challenge for the 3 of Spades -

Finding Peace
THREE
of Spades: The ARTIST Card:
The Three of Spades have the opportunity for success in their life if they are willing to work for it. They have a heavier load than most, indicated by their position in the Saturn line. But if they work hard, they will receive the Jupiterian blessings from their column position. The Six of Diamonds Karma Card tells us that there is a karmic debt to pay and often they are associated with Six of Diamonds persons. The Three of Spades means indecision about work or health and they should watch their health carefully and stick to sound medical practices and advice.
The more they worry about their health, often the worse their condition gets so they have a responsibility to watch their thoughts and feelings as they relate to health matters. Having the Queen of Spades with the Ten of Diamonds (underlying influence) in Jupiter gives them the opportunity for great business success through mastery of their values and business lives. However, with the Jack of Clubs in their Saturn position, they will always meet with some disappointment if they stray from honesty. Only the straight path will bring them the success they want.
Your

Karma Cards

are the:
Six of Diamonds
- You owe something to this person and they reflect you in some way.
Jack of Diamonds
- This person owes you and you are their mirror in some way.
Relationships

: The

THREE of Spades

is a highly creative and romantic person and needs a partner with whom they may share these interests. There are hurdles in love based upon inner fears of abandonment or rejection that must be dealt with, but overall they have good marriage potential. They need an outlet for their creativity, because their extra-marital affairs are usually the result of not giving themselves a positive creative outlet.
THREE
of Spades
BIRTHDAYS
: January 11 - Capricorn, February 9 - Aquarius,
March 7 - Pisces II
, April 5 - Aries, May 3 - Taurus, June 1 – Gemini;
FAMOUS
THREE of Spades
Tamara Faye Bakker
was an American Christian singer, evangelist, entrepreneur, author, talk show host, and television personality. She was married from 1961 to 1992 to televangelist, and later convicted felon, Jim Bakker. March 7, 1942, International Falls, MN.
FAMOUS THREE
of Spades

:
Marilyn Monroe
,
Jean Chretien, Naomi Judd, Mary J. Blige, David Gallagher, Joe Pesci, Carole King, Luther Burbank, Tammy Faye Bakker, Lord Snowdon, Colin Powell, Betty Davis, Spencer Tracy, Alanis Morissette, ;
Source:
Robert Camp's Love Cards
.
THREE of Spades (Swords) in Tarot
THREE of Spades

have come to labor for whatever achievement is theirs and unless they are willing to struggle for their prescribed spiritual enlightenment, they run the risk of giving up everything, resigning themselves to a life of drudgery. Health can be a problem for people born under this card. Due to their mistrust of doctors, they often make changes and experiments with both the Doctor and the medicines they are prescribed. As a rule, the majority fare better with natural methods than with conventional drugs.Doubt and indecision is the biggest bugaboo for all the 3's. However, once a 3 of Spades does make up his or her mind, they have the willpower and tenacity to abide by their decision until the very end.
http://www.metasymbology.com/
PISCES II - The Week of the LONER March 3-10:

Pisces II's tend to live in a private world of their own. This is true not only internally but outwardly for their homes are often retreats from the world, places to which few are admitted. The healthier Pisces II's can give equal weight to their careers, on the one hand, and to their social and personal lives, on the other; less balanced individuals born in this week may choose to isolate themselves more than is good for them.
ADVICE

:

Try to remain realistic in your outlook. Resist the lure of escapes, in all their varied forms. On the one hand, leave a window open to the world. Continue to strive for trust and acceptance, but remember to stand up for yourself as well. Improving your social position may make certain things easier for you. Your suffering may neither be unique or, for that matter, necessary.
Strengths:

SOULFUL - INTIMATE - GRACEFUL
Weaknesses:

RECLUSIVE - DISAPPOINTED - SUFFERING
PISCES II NOTABLE Luther Burbank was an American botanist, horticulturist and pioneer in agricultural science. He developed more than 800 strains and varieties of plants over his 55-year career. March 7, 1849, Lancaster, MA.
PISCES II
NOTABLES
:
Alexander Graham Bell,
Rob Roy,
Michelangelo, Bobby Fischer,
Luther Burbank,
Oliver Wendell Holmes, Cyrano de Berggerac.
Source:
The Secret Language of Relationships
Gary Goldschneider & Joost Elffers.