Zhou Enlai
,
was the first Premier of the People's Republic of China, serving from October 1949 until his death in January 1976. March 5, 1898, Huai'an, China.
Nixon
never did figure it out those chopsticks. However, the reason the two got along so well was they are both FIVE of Spades cardholders, the WANDERER card and the tarot FIVE of SWORDS, the WARRIOR card, Amazing how that astrology stuff plays out with famous relationships.
March FIFTH the Day of HEAVEN AND HELL:

Those born on March 5 usually have two distinct sides to their personality. To the world they may appear debonair and charming, sophisticated, as well as kind and considerate, while inside they are grappling with their personal demons. Extremely secretive, they can be quite different people in private and are prone to expressing dark feelings and emotions.
Strengths:

Expressive, Polished, Incisive
Weaknesses:

Difficult, Temperamental, Suffering
ADVICE

:

Regulate your energy - don't be driven by it. You wag the tail, not the other way around. Keep your priorities straight and be a bit nicer to yourself.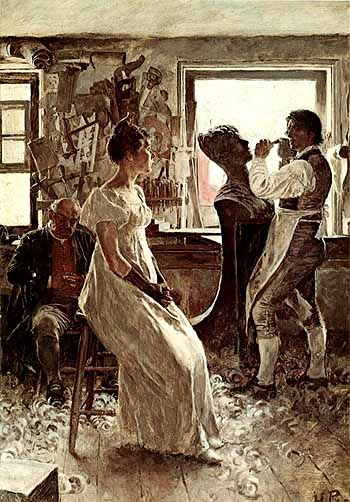 BORN ON THIS DAY

: Rex Harrison,
Howard Pyle
,
Zhou En Lai
, Michael Irvin, Andy Gibb, Elaine Page, Samantha Eggar, Niki Taylor, Joel Osteen;
Source:
The Secret Language of Birthdays
,
Gary Goldschneider & Joost Elffers.
MEDITATION

:

Most children think that they are devils who play at being angels, when very often it is the reverse that is true.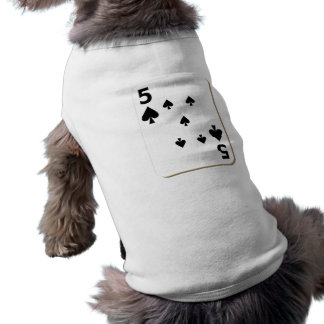 Spades -
Wisdom - Labor – Acceptance
5 of Spades

-
Labor of Love
Karma for the 5 of Spades

–
Discouragement
FIVE
of Spades: The Card of the WANDERER:
The Five of Spades is the card of changes and travel. These people like to travel and have a certain amount of restlessness and dislike routine. However, their restlessness often applies to their spiritual quest, their striving for truth and growth of the inner self. With the Jack of Hearts in Mercury there is a certain amount of sacrifice for loved ones in their lives or for an education, especially in early life. The Ten of Hearts Karma Card gives them much in the way of social success though the Nine of Clubs (Venus Card) speaks of many personal disappointments, especially from friends and loved ones. They may have trouble at work with coworkers and other elements that require much effort to overcome. They find the most success working with partners and in occupations that allow them travel and meeting new people. One of their challenges is to find success in their business transactions. They don't always make the best deals for themselves. Money often comes in association with love or marriage.
Your

Karma Cards

are the:
Ten of Hearts
- You owe something to this person and they reflect you in some way.
Four of Diamonds
- This person owes you and you are their mirror in some way.
FIVE

of Spades

BIRTHDAYS:
January 9

- Capricorn,

February 7

- Aquarius,

March

5 - Pisces II

,

April 3

- Aries,

May 1

– Taurus

;

F

AMOUS

FIVE
of Spades
Marlon Brando
, Jr
.
was an American actor and film director. He is hailed for bringing a gripping realism to film acting, and is widely considered to be one of the greatest and most influential actors of all time. April 3, 1924, Omaha, NE.
FAMOUS

FIVE

of Spades

:

Ashton Kutchner,

Rex Harrison,

Charles Dickens, Chris Rock, Kevin Connolly, Dean Stockwell, Jane Goodall, Eddie Murphy,

Marlon Brando

,

Tim McGraw, Jack Paar, Glenn Ford, Zhou Enlai, Jimmy Page,

Richard Nixon. Source:

Robert Camp's Love Cards.
FIVE of Spades (Swords) in Tarot
FIVE of Spades: The restlessness inherent in all Five's assumes a different quality in the 5 of Spades. These natives seek change to expand their social circles and improve the lives of those they love. Fives of Spade tend to wear their hearts on their sleeve. They are known to love deeply and passionately. Unfortunately, and in spite of their desire for long lasting love, they are prone to disappointments and frustrations in their relationships with both women and men. Willing to make sacrifices for the well-being of others, no service is too arduous for them. They enjoy helping other people, and just wish they could do more. Those born under the influence of this card have great inner strength at their disposal. And it's a good thing too - as with their difficult life pattern, they actually really need it! This is a traveler's card and travel is often required in the interests of health or business. These people are usually obliged to keep busy and they hate routine and limitation. http://www.metasymbology.com/
PISCES II - The Week of the LONER March 3-10

: Pisces II's tend to live in a private world of their own. This is true not only internally but outwardly for their homes are often retreats from the world, places to which few are admitted. The healthier Pisces II's can give equal weight to their careers, on the one hand, and to their social and personal lives, on the other; less balanced individuals born in this week may choose to isolate themselves more than is good for them.
ADVICE

:

Try to remain realistic in your outlook. Resist the lure of escapes, in all their varied forms. On the one hand, leave a window open to the world. Continue to strive for trust and acceptance, but remember to stand up for yourself as well. Improving your social position may make certain things easier for you. Your suffering may neither be unique or, for that matter, necessary.
Strengths:

SOULFUL - INTIMATE - GRACEFUL
Weaknesses:

RECLUSIVE - DISAPPOINTED - SUFFERING
PISCES II NOTABLE: Joel Scott Osteen is an American preacher, televangelist, author, and the Senior Pastor of Lakewood Church, the largest Protestant church in the United States, in Houston, Texas. March 5, 1963 (age 52), Houston, TX.
PISCES II
Notables
:
Alexander Graham Bell
,
Michelangelo
,
Bobby Fischer,

Joel Osteen

, Oliver Wendell Holmes, Cyrano de Berggerac.
Sour
ce:
The Secret Language of Relationships,
Gary Goldschneider & Joost Elffers.