Theodor Seuss Geisel was an American writer and cartoonist. He was most widely known for his children's books, which he wrote and illustrated under the pseudonym Dr. Seuss. March 2, 1904, Springfield, MA.
March SECOND the Day of the UNDYING LOYALTY:
The highly dependable individuals born on March 2 display an unusually strong sense of loyalty which can manifest in relation to their family, friends, nation or perhaps a higher cause. Those born on this day tend to hold the object of their passion in the greatest esteem, even to grant it adoration or worship. Rarely if ever will they forsake their commitments once they have given themselves fully.
STRENGTHS:

Loyal, Imaginative, Perserverant
WEAKNESSES:

Out-of-touch, Inflexible, Obsessive
ADVICE

:

Ground yourself in everyday activities of life. Let your mind roam but also try to be realistic about what you wish to accomplish. Don't neglect your own needs and development. Phasing out the ego might not be the proper direction for you.
BORN ON THIS DAY
: Mikhail Gorbachev,
Sam Houston
,
Theodore Seuss Geisel,
Jon Bon Jovi, Jennifer Jones, Tom Wolfe, Lou Reed, Karen Carpenter, Desi Arnaz;
Source:
The Secret Language of Birthdays
Gary Goldschneider & Joost Elffers.
MEDITATION:

God may not be so far away.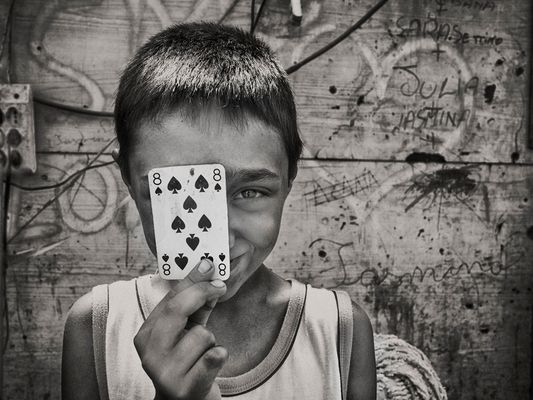 Spades -
Wisdom - Labor - Acceptance
8 of Spades
-

Power in Work
Karma for the 8 of Spades

- Materialism
EIGHT
of Spades: The Power Through Work Card:
As the "eight of eights", the power card of power cards, the Eight of Spades has the heaviest burden and obligation to use his or her power for good. Spades take us into the spiritual realms though many spade people cannot un-rivet their attention from material gain and mastery. Success is almost easy for them, as long as they are willing to work for it many of these people are workaholics. They know that they possess great power. The test comes in how they choose to use it. When they work from a lower sense of values, or when operating from their "fear pattern", they can use this power to destroy themselves. They need to be admired and will work hard for it. They make good providers and will often try to marry those of means also. Divorce is often lucrative for them. They can handle obstacles, which often serve as a measure of their true abilities. They have a profound healing power, and if directed, can transform the lives of those they come in contact with.
Your

Karma Cards

are the:
King of Clubs
- You owe something to this person and they reflect you in some way.
Six of Clubs
- This person owes you and you are their mirror in some way.
EIGHT
of Spades
BIRTHDAYS
: January 6 (Capricorn) February 4 (Aquarius)
March 2 (Pisces)
;
FAMOUS
EIGHT
of Spades
: Sun Myung Moon, Kahlil Gibran, Rowan Atkinson,
Rosa Parks

,
Alice Cooper, Betty Friedan, Daniel Craig,
Dr. Seuss
, Lou Reed;
Source:
Robert Camp's Love Cards.
EIGHT
of Spades
Lewis Allan
"Lou" Reed
was an American musician, singer and songwriter. He was the guitarist, vocalist, and principal songwriter of the Velvet Underground, and his solo career spanned five decades.
March 2, 1942, Brooklyn, NYC, NY.
EIGHT of Spades (Swords) in Tarot
EIGHT of Spades: These people have a keen sense of their inherent obligation to work. They have been known to tax their health and sacrifice their loved ones in their drive to get things done. The Eight of Spades often ends up inheriting property or money from their parents or will otherwise obtain substantial help from family members. Although primarily concerned with hard work, this Card does have a higher calling. It is often considered the Healers Card. Should the 8 of Spades use their enormous spiritual energy, and the application of higher wisdom to accomplish their goals, they are sure to find their place among the great ones. Still another class of Eight of Spades will realize nothing besides their innate power. They work solely for the amount of money they can amass, and the joy of being called a "big shot"! http://www.metasymbology.com/
PISCES I The Week of Spirit - February 23-March 2:
Those born on the Week of the Spirit value the non-material side of life. It's not that they lack either respect for money-making and business or abilities in these fields. It is simply that, whether engaged in the arts or in finance, in religion or in administration, PISCES I's generally approach their work devotionally, elevating it to an idealistic plane. Nor are they without strong physical drives, or a love of the pleasures of the table and the bed. A blend of a spiritual and a sensual approach is at the heart of their per
sonalities. Many PISCES I's do not see spirituality as denoting an ascetic approach that would ask them to cut their bonds with the everyday world. On the contrary, since those born in this week seek the spirit in everything around them, they rarely feel the need to reject worldly considerations.
Strengths:

Spiritual - Sensual - Transparent
Weaknesses:

Emotional - Irresponsible - Catastrophic
PISCES I
NOTABLES

: Elizabeth Taylor, Linus Pauling, Enrico Caruso,

Desi Arnaz

, George Harrison, Mikhail Gorbachev.
Source:
The Secret Language of Relationships
Gary Goldschneider & Joost Elffers.
PISCES I
NOTABLE
Desiderio Alberto Arnaz y de Acha III,
better known as
Desi Arnaz
or Desi Arnaz, Sr., was a Cuban-born American musician, actor, television producer, writer and director. March 2, 1917, Sanitago, Cuba.
Karma for the 8 of Spades - Materialism