Gioacchino Rossini
( Italian overture, opera composer,
Barber of Seville
,

William Tell

- wrote 40 operas in fifteen years, retired at thirty-two).
February 29, 1792, Pesaro, Italy.
February TWENTY-NINTH the Day of ETERNAL YOUTH:

We can say with some certainty that there are far fewer February 29 people than those born on any other day. Moreover, were we to determine our age by counting up our birthdays, those born on February 29 would also be far younger than anyone else. Twenty would be a ripe old age for someone born on this day, consequently, it could be said that February 29 people are forever young.
Strengths:

Youth, Accepting, Appreciative
Weaknesses:

Indulgent, Immature
ADVICE

:

Find a balance between your individual and social selves. Develop a quite self-confidence. Beware of adhering too much to external values. Bring your fantasy out in the world and share it with others;
BORN ON THIS DAY

: Anne Lee (British born American founder of Shakers, Morarji Desai (Indian prime minster, imprisoned disciple of Mahatma Ghandi), Dinah Shore (singer, film actor, TV host, overcame polio),

Gioacchino Rossini

( Italian overture, opera composer,

Barber of Seville

, William Tell - wrote 40 operas in fifteen years, retired at thirty-two).
MEDITATION

:

Less is often more.
Source:

The Secret Language of Birthdays

Gary Goldschneider & Joost Elffers.
Clubs - Mind - Communication –

Intelligence

,
9 of Clubs -

Mental Control,
Karma for the 9 of Clubs -

Mental Weakness.
NINE of Clubs: The Card of Universal Knowledge & The Giver of Knowledge:

Though this is a card of expanded consciousness, it is also a card of negative thinking. These people must let go of many negative mental patterns accumulated from past lives if they are to access the inherent power in this card. There are many who do and who have reached the very heights of recognition. This is a card of sexual enjoyment and pleasure seeking. If this is allowed to dominate, much time and energy is wasted that would otherwise elevate them to great accomplishment. The Nine of Clubs is here to end a major cycle in their soul's development, a completion that should see them giving their wealth of knowledge to the world. There are some debts to be paid, especially to the Six of Diamonds and Queen of Hearts, but once these debts are paid, they can proceed with their cosmic task of enlightening the world. Financially they are always assisted by diamond men and they do well in their own business if they don't let it spoil their spiritual values. They cannot be totally materialistic or mercenary.
Your

Karma Cards

are the:
Queen of Hearts
- You owe something to this person and they reflect you in some way.
Six of Diamonds
- This person owes you and you are their mirror in some way.
NINE of Clubs

BIRTHDAYS

: January 31 (Aquarius),

February 29 (Pisces),

March 27 (Aries), April 25 (Taurus), May 23 (Gemini), June 21 (Gemini/Cancer), July 19 (Cancer), August 17 (Leo), September 15 (Virgo), October 13 (Libra), November 11 (Scorpio), December 9 (Sagittarius);
FAMOUS

NINE of Clubs: Justin Timerlake, Minnie Driver, Kelly Lynch, Stavy "Fergie" Ferguson ( Fergalicious ), Mariah Carey, Quentin Tarantino, Renee Zellweger, Al Pacino, Joan Collins, Prince William, and Prince Harry (!), Sean Penn, Robert DeNiro, Oliver Stone, Zane Grey, Kelly Preston, Ashanti, Margaret Thatcher,

Leonardo DiCaprio

, Demi Moore;
FAMOUS NINE of Clubs Leonardo Wilhelm DiCaprio is an American actor and film producer. DiCaprio began his career by appearing in television commercials, after which he had recurring roles in TV series such as the soap opera… November 11, 1974 (age 41), Hollywood, CA.
Source: Robert Camp's

Love Cards

www.7thunders.com
The

NINE of Clubs

: As a rule, these people have warm and friendly personalities, a keen sense of obligation, and they keep promises and their pay debts. The 9 of Clubs is the "Adventurer's Card". They like to gamble and are always willing to take a chance for the satisfaction of curiosity or interest. When their adventurous spirit extends to the field of knowledge, they often become extremists capable of making some fantastic discovery that will benefit others on an international scale. The first 13 years of life are usually the most difficult of their lifetime. Many harsh lessons are learned through the actions of a domineering and sometimes violent father. However, these early difficulties tend to disappear when they are in their late teens or early 20's - or - as soon as they are able to lay aside their self-protective negativity, and embrace a more universal approach to life.
http://www.metasymbology.com/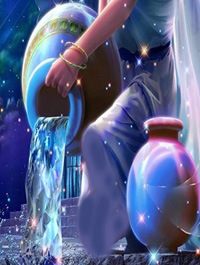 AQUARIUS III -
The Week of ACCEPTANCE February 8-15: The theme of acceptance runs strong in the lives of Aquarius III's. Some of them are hardheaded and not particularly open to unusual ideas and people but become increasingly tolerant as the years go by. Others are overly accepting from an early age and allow themselves to be unduly manipulated or influenced by stronger, more selfish types. The challenge for Aquarius III's is to remain open to the world while at the same time retaining the ability to be selective in screening out harmful influences.
Strengths: LIVELY - INVENTIVE - AFFECTIONATE.
Weaknesses: IRRITATED - VULNERABLE - NEEDY
ADVICE: Accept your need for other people and cultivate meaningful social interaction. Remain open and accepting, but demand that others accept you as you are, too. Your psychic abilities are valuable - use them constructively. Beware of allowing rejection to lower your self-esteem.
AQUARIUS III

NOTABLES

: James Dean, Mia Farrow, Abraham Lincoln, Thomas Edison, Jules Verne, Galileo, Charles Darwin, Jack Lemmon.
Source: The Secret Language of Relationships Gary Goldschneider & Joost Elffers.
PISCES I NOTABLE Tony Robbins is an American motivational speaker, personal finance instructor, and self-help author. He became well known from his infomercials and self-help books: Unlimited Power, Unleash the Power Within and Awaken the Giant Within. February 29, 1960 (age 56), North Hollywood, CA.