George Herman
"Babe" Ruth
, Jr.
was an American baseball outfielder and pitcher who played 22 seasons in Major League Baseball from 1914 to 1935. February 6, 1895, Pigtown, Baltimore, MD.
February SIXTH - The Day of POPULARITY:

Those born on February 6 display both a great need and capacity to be popular with their social set. Indeed they wish to be admired and praised by those whom they care about. In the eyes of other socially oriented individuals they may be seen as extremely lucky to attract so much attention. In fact, they are usually quite insecure about their real worth, and therefore seek the bolstering of others as well as a measure of ego massage. More than with most people, a yearning to be loved can burden the heart of a February 6 person. Advice: Take a good look at yourself, apart from the opinion of others. Discover your true nature. Be more transparent. Cultivating inner strength pays great dividends.
In attempting to explain the popularity of those born on this day, one might find that good looks, charm and an outgoing manner are at work, but surely the ability to strike a common chord in the hearts of others is something almost all February 6 people have in common. Perhaps it is their lack of pretension and accessibility that allows acquaintances, even strangers to identify with them and helps elicit such a strongly positive
response
. The confidence and trust they inspire in others earns them praise when things go well and tends to protect them from criticism and blame when things go awry.
Strengths:

SOCIALLY ADEPT - WELL-LIKED - FACILE
Weaknesses:

SELF-UNAWARE - INSECURE
BORN ON THIS DAY
:
Babe Ruth
,
Ronald Reagan
, Bob Morley, Christopher Marlowe, Natalie Cole, Eva Braun, Zsa Zsa Gabor, Tom Brokaw, Jeb Stuart, Aaron Burr, Mary Leakey, Axl Rose, Fabian;
Source:
The Secret Language of Birthdays
Gary Goldschneider & Joost Elffers.
Spades -
Wisdom - Labor – Acceptance
6 of Spades Meaning -
The Law of Life
Karma for the 6 of Spades –
FATE
SIX
of Spades - The Card of FATE
- This is a powerful card, and the card of a person who is here to learn the responsibility of such power. These people either align themselves to a higher purpose and vision and achieve great success, or have their power turned against them for their own downfall. As a rule, these people are very responsible for their actions but a strong Neptune influence can lead many of them down the road of escapism and time lost in fantasy. They are dreamers to be sure. They must latch on to the highest dream they can and use their power to attain it. Nothing can stop them once this vision is clear. Fulfillment on every level is guaranteed. They must watch a tendency to fall into a comfortable rut. They can also be very stubborn. Through the acquisition of knowledge they find great fulfillment, life purpose, direction, and many good friends. Some of their greatest challenges come in the area of love and romance. Their own indecision works against them.
Your

karma cards

are the
NINE of Spades
(The Universal Life Card) - You owe something to this person and they reflect you in some way.
TWO of Spades
(The Friendship Card) - This person owes you and you are their mirror in some way.
SIX
of Spades BIRTHDAYS: January 8 (Capricorn), February 6 (Aquarius II), March 4 (Pisces), April 2 (Aries);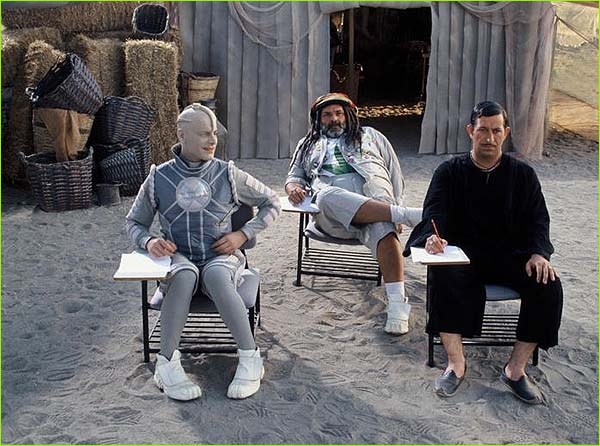 FAMOUS SIX
of Spades Robert Nesta "Bob" Marley was a Jamaican reggae singer-songwriter, musician, and guitarist who achieved international fame and acclaim. The album Exodus in 1977 established his worldwide reputation and produced his status as one of the world's best-selling artists of all time, with sales of more than 75 million records. He was a committed Rastafari who infused his music with a sense of spirituality. 6 February 1945 Nine Mile, Saint Ann, Jamaica.
FAMOUS SIX
of Spades: Stephen Hawking, Aaron Burr, Elvis Presley, David Bowie, Axl Rose, Bob Marley, Ronald Reagan, Emmylou Harris, Marvin Gaye, Alex Guinness. Source: Robert Camp's Love Cards.
SIX of Spades (Swords) in Tarot
SIX of Spades: This is the Card of overcoming, and all Six of Spades people are strong willed and determined; often fixed and stubborn! The Six of Spades have great potential and power in their Life Pattern of Cards, but if they don't accept the responsibilities that are being constantly placed upon them, they will drift toward discouragement, lack of initiative, and ultimately, what one could call a very boring life! Six of Spades people are strictly just - and they may seem hard and unfeeling at times. Intuitively, they know that there is no death, only Eternal Life. It is this truth that they have come to fully realize in our finite world of mortality. Tried and tested throughout their lives, when the Six of Spade are beaten down it is only to rise up, and try even harder the second, or third time around! http://www.metasymbology.com/
AQUARIUS II: The Week of YOUTH and EASE January 31-February 7: "No hassles" could be the motto of most AQUARIUS II's. Listening to those born in this week, one would gather that they do not like trouble in any form and would do practically anything to avoid it. They value their happiness highly, both in the long term and in the short. AQUARIUS II's generally ask to be left alone to travel their own path with as little interference as possible. Not much interested in controlling others or meddling in their affairs, those born in this week are happy to accord the same treatment to other people that they demand for themselves.
AQUARIUS II NOTABLE Charles Dickens was an English writer and social critic. He created some of the world's best-known fictional characters and is regarded by many as the greatest novelist of the Victorian era. February 7, 1812, Landport Portsmouth, UK.
AQUARIUS II NOTABLES: Charles Dickens, Zsa Zsa Gabor, Babe Ruth, Jackie Robinson, Adlai Stevenson, James Michener, Clark Gable, Nolan Ryan, James Joyce, An Wang, Mary Leakey, Phil Collins, John Ford, Ida Lupino, Gertrude Stein. Source: The Secret Language of Relationships, Gary Goldschneider & Joost Elffers.
Strengths: ACCOMPLISHED - ADMIRED - REFINED
Weaknesses: IMMATURE - TORTURED - CUT OFF
ADVICE: Try to get in touch with your own deeper feelings. Sometimes it is better to meet problems head on. A bit of pain now may prevent much more latter. Don't be too dependent on others' opinion of you. Have the courage to be yourself and don't feel you have to please or entertain.
Karma for the 6 of Spades –
FATE