Claes Oldenburg
i
s an American sculptor, best known for his public art installations typically featuring very large replicas of everyday objects. Another theme in his work is soft sculpture versions of everyday objects.

January 28, 1929 (age 85), Stockholm, Sweden.
January TWENTY-EIGHTH the Day of OUTSTANDING ACHIEVEMENTS:
Those born on January 28 are capable of extraordinary achievements. Most often these achievements are of a physical, or physically related nature, in which great odds must be overcome through sheer guts and determination. Yet the mental factor of this day is also very high. Without unusual willpower to give their actions force and determination, and highly conceptual abilities to guide them, such physical accomplishments could never materialize.
January 28 people are very individual in their choice of challenges and interests. The most highly evolved of this day are realistic about their capabilities and thus, although they may appear to others daring, even reckless, have themselves under control. Less highly evolved individuals born on this day are unsuccessful for the opposite reason: an unrealistic assessment of their capabilities, and in addition a destructive self-consciousness or conceit about them.
Strengths:

GUTSY-STRONG-WILLED-DRIVEN
Weaknesses:

OVER-EXCITABLE-SENSATIONALIST-IMPULSIVE
Advice

:

Keep hold of the tiger's tail. Don't be swept away by the next new wonder. Cultivate calm, patience and a realistic idea of your capabilities. Look before you leap.
BORN ON THIS DAY

:
Voytek
,
Jackson Pollock
,
Arthur Rubinstein,
Gregg Popovich,
Chopin, Mikhail Baryshnikov,
Claes Oldenberg
,

August Picard, Jean Picard, Robert Stroud (Birdman of Alcatraz), Carlos Slim, Sir Henry Morton Stanley, Henry VII, Nicholas Sarkozy, Alan Alda.
Source:
The Secret Language of Birthdays

,
Gary Goldschneider & Joost Elffers.
MEDITATION:

There are ever-recurring miracles in everyday events.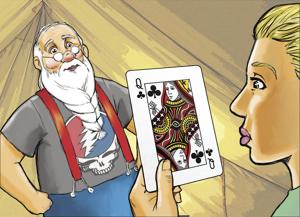 Clubs -
Mind - Communication – Intelligence
Queen of Clubs -
Mentally Receptive
Karma -
Sacrifices for the Good of Others.
QUEEN
of Clubs: The Mother of Intuition Card
All Queens are service oriented and receptive in nature. The mental nature of clubs inclines the Queen of Clubs to deal in the publishing trade, secretarial work, or in the more aware ones, psychic work. Being Queens, they are always aware of their place in the royal court and resist anyone trying to mold them in any way. Their Karma card, the Three of Hearts, as well as the Five of Clubs in their Venus position, tells us that indecision about love and friendship makes it hard for them to find lasting happiness in these areas. Their mental gifts are abundant (Ten of Spades in Mercury) and whether or not they realize it, they are always receiving knowledge from the "other side". Their Ace of Spades in Jupiter promises many rewards if and when they follow spiritual or psychic lines of work or pursuits. They have a deep heritage of knowledge from past lives that is always available. The Queen of Clubs is also known as the "Mother Mary" card and many of them have one or more "children" for whom they must make sacrifices in their life.
Your

Karma Cards

are the:
Three of Hearts
- You owe something to this person and they reflect you in some way.
Ten of Diamonds
- This person owes you and you are their mirror in some way.
QUEEN
of Clubs BIRTHDAYS:
January 28 (Aquarius I)

, February 26 (Pisces), March 24 (Aries), April 22 (Taurus), May 20 (Taurus), June 18 (Gemini), July 16 (Cancer), August 14 (Leo), September 12 (Virgo), October 10 (Libra), November 8 (Scorpio), December 6 (Sagittarius);
FAMOUS QUEEN of Clubs
Yao Ming
is a retired Chinese professional basketball player who played for the Houston Rockets of the National Basketball Association. At the time of his final season, he was the tallest active player in the NBA, at 2.29 m. September 12, 1980 (age 34), Shanghai, China.
FAMOUS
QUEEN
of Clubs

:

Elijah Wood, Sara McLachlan, Alan Alda, Erykah Badu, Johnny Cash,

Harry Houdini

, Steve McQueen,

Jack Nicholson

, Aaron Spelling, Cher, Jimmy Stewart, Paul McCartney, Isabella Rossellini, Will Ferrell, Corey Feldman, Halle Berry, Steve Martin,

Yao Ming

.
Source:
Robert Camp's

Love Cards
www.7thunders.com
The

QUEEN of Clubs:

Always positive and strong willed, the Queen of Clubs are practical and decisive in their application of knowledge. Likewise, their quest for knowledge is insatiable, and they are impatient and intolerant of ignorance or mental laziness in others. The women Queen of Clubs are not domestic. They don't know the meaning of subservience let alone how to play the part! The male Queen of Clubs, although seldom lacking in sympathy, need to learn to handle their tempers. All are natural leaders in any profession they follow. Besides their deep and sometimes obsessive urge for a personal love, the Queen of Clubs craves financial success for the respect it brings. They are generous and good spenders, and prefer to make money by their own efforts.
http://www.metasymbology.com/
AQUARIUS I: The Week of GENIUS: January 23-30:
Although AQUARIUS I's may not necessarily be more intelligent than others in the year, they generally learn quickly and exhibit an alert, even high-strung demeanor. Like thoroughbreds, they are hot-blooded types, usually champing at the bit to get on with it. Patience is not one of their virtues, and AQUARIUS I's show a marked itchiness with those slower sorts who need time to express themselves and make decisions. Strengths: Precocious - Unique - Self-Taught; Weaknesses: Reckless - Distracted - Stressed-Out;
AQUARIUS I NOTABLE:
Hadrian
was Roman emperor from 117 to 138. He rebuilt the Pantheon and constructed the Temple of Venus and Roma. He is also known for building Hadrian's Wall, which marked the northern limit of Roman Britain.

January 24, 76 AD, Italica, Spain.
AQUARIUS I

NOTABLES

:

Voytek

,
Robert Stroud
(Birdman of Alcatraz),
Mozart, FDR, Oprah, Paul Newman,

Hadrian

,
Gregg Popovich,
W.C. Fields,
Alan Alda, Jackson Pollock, Carlos Slim Helú,
Lewis Carroll.
Source:
The Secret Language of Relationships
Gary Goldschneider & Joost Elffers.
ADVICE

:

Clarify a realistic picture of yourself in your mind's eye. A certain amount of undesirable personal interaction is always necessary: try to be more thick-skinned and, if necessary, downright insensitive. Cultivate calm, patience and persistence rather than always going your own way. Learn to handle frustration and be tough enough to quietly demand the very best for yourself.